Radical Rituals
Meet the Fellows
7 May 2021
Their work aims at investigating the built environment through research, design and artistic experimentation, across multiple scales and in its social, economical and structural entanglements.They are collecting protocols and collective approaches, exploring alternative living and city making models and new paradigms of urban development to engage with communities and local agents. They strive to create inclusive and accessible spaces through careful use of scale, material and design language with a commitment to rethinking education through academia and practice placing design at the intersection of arts and sciences. Berta Gutierrez and Alkistis Thomidou were talking to Boštjan Bugarič.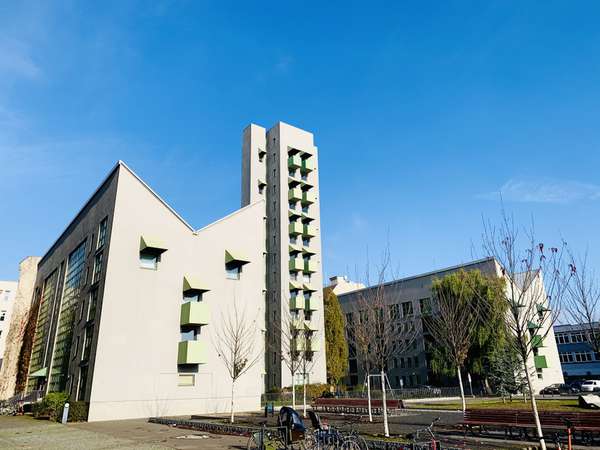 For this interview we meet in a new park next to Hejduk's Tower; why did we meet here?
BG: I really appreciate Hejduk's theoretical work and I find it very relevant nowadays since I believe it can give us many leads on how architecture should be taught during the contemporary crisis.
Around this park are also other important buildings?
AT: On the other side we find a first cooperatively built project for offices, FRIZZ, and on the other there is also the new TAZ building.
This park is divided with paths (lines), how can we create these lines?
AT: This area had a very strange atmosphere although it is quite central. I am actually the first time in the park after its renovation. These lines cutting through the space shall be a result of shortcuts where people cross the former park, literally, the footprint.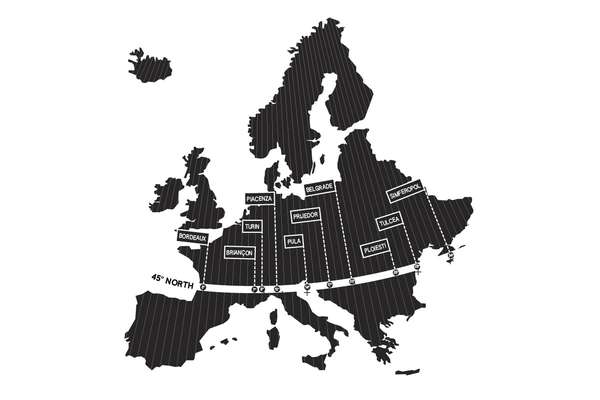 What about your line, the forty-five degree? What is a project about?
AT: The name came along with the idea of a research of the 45ºN parallel as many people in our team come from the south of Europe but studied or work and live in the north part of Europe. This line has influenced our way of thinking and although it is a fictional line it burdens Europe and represents a border that people try to cross every day from South to North. We wanted to investigate what is happening along this line that crosses France, Italy, Croatia, Serbia, Romania all the way to the Black Sea. Although it cuts the middle of Europe, cities around it are considered 'peripheral'. We are researching how the European identity is reflected along this line.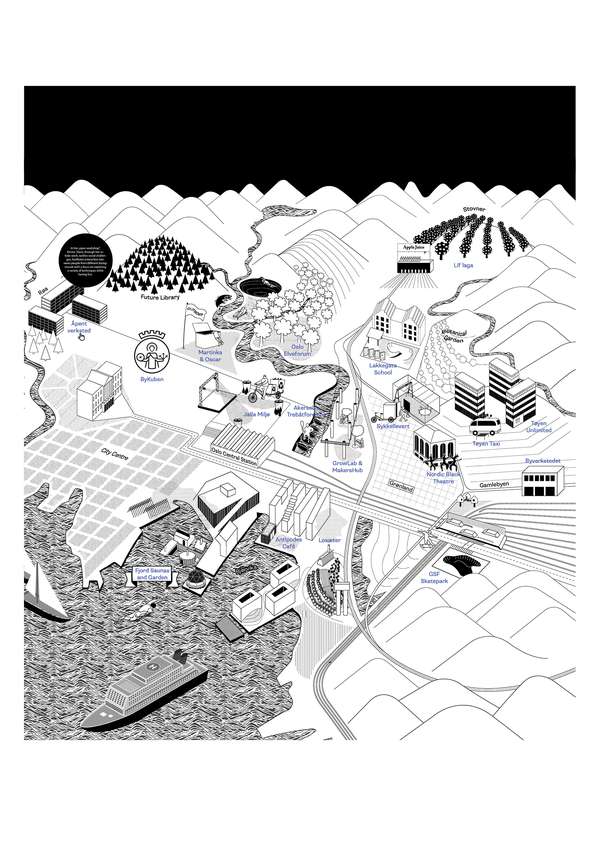 What have you discovered so far?
BG: We are currently preparing our first field trip, and we will be in Romania and Serbia by September. Right now this is a very fascinating part of the project as it is like a zoom into the ground. If you go very far away, you see the meridians and parallels as the way of shaping the world, but when you start to get closer, you see countries, borders, cities, landscapes and people. We would like to zoom in as much as possible, so we can really understand local situated practices that are happening in very specific physical environments.
AT: The project "Radical Rituals" is a survey on very local spatial practices or initiatives that addresses climate challenges, space justice and biodiversity. We want to be surprised by what we learn along the way, what kind of collectivity is created and how local identities can influence space production.
BG: In this sense it is great that we are in front of Hejduk's building because he proposes the way in which design comes as a result of small narratives or characters entangled with each other, working with crafts or local materials and contexts. For us the exercise is similar, but instead of working with fiction we work with reality as nowadays reality is complex enough. We don't have all the answers to these challenging topics, but we believe that this exercise will give us a sort of light.
AT: Through this research we want to see what stories point to possible futures and possible present-s as people develop tools and knowledge that is embedded in the context of the local space. We worked on this concept at the Architecture Triennial in Oslo, where we created a digital Atlas that connects OAT's archive and discourse with the transformations that take place on the city's ground through local initiatives. We encountered initiatives that manage to achieve systemic changes and give multiple answers to the big challenges we are facing. In a way, proving that the environment is a primal source of our knowledge.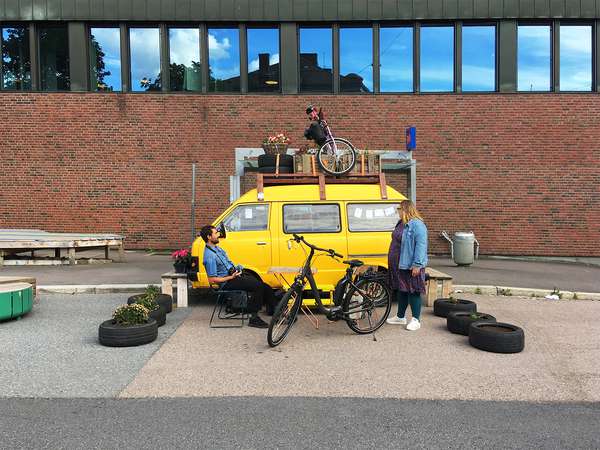 Your practice was as well put on the list of the Future Architecture Platform? How do you see yourself in the FAP?
AT: It was an important experience to have this opportunity of working with people and institutions. We met extremely generous and inspiring people in Ljubljana and then in Oslo. Then, we got the digital research fellowship at Architectuul which enables us to meet and connect with other projects and not just sit in our office and work on the research but expand our network and bring different perspectives together. We are very grateful that the Future Architecture Platform gave space for this project.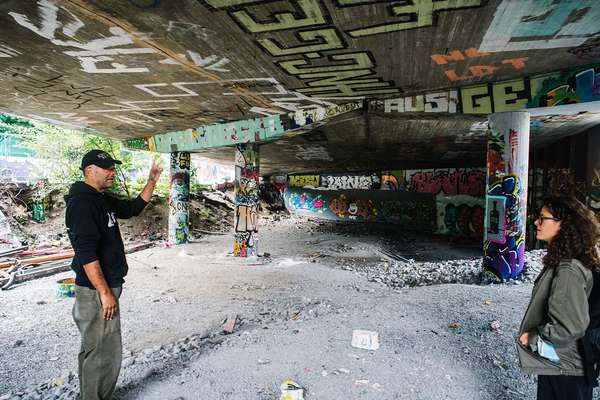 Just finished curating a panel on Kvadrato, how did you choose panels and why you wanted to present them?
AT: The panel was called 'Communication for Commonalities', where we invited diverse initiatives that work collectively and with several communities. Their work spans from creating digital platforms that communicate collective intelligence on a global scale, to very local projects that engage directly with a variety of actors on the ground.
BG: It was a great example for us to address our questions and concerns and discuss them in the context of communication of architecture. As we know, communication in architecture is about media and its symbolic representation. Nevertheless, for us communication is related with the ground, physical context, methodologies and the communication channels that people use to promulgate the project with peers or bigger networks.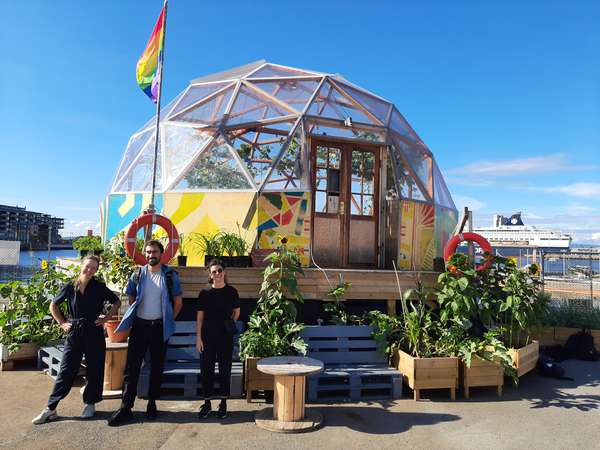 How you integrate the theoretical methods in the learning process?
BG: In my personal research I try to answer the question of how do we promote other ways of learning coming from non-disciplinary practices since academia became such a rigid space with a very outdated curriculum. With non-disciplinary practices beyond academia we can really find many inputs on this crossing.
AT: We are currently collaborating with two other international practices on an Erasmus+ Youth in Action project on how to learn together. During the next two years we will develop formats of different ways of learning and engaging youth to physical interaction with various spaces in the city, public, private or common areas. We see the engagement of young adults in space-making processes as a project of emancipation and investment in the future.