breathe.earth.collective – thinking, doing, activating!
breathe.earth.collective is a network to promote and tool fresh air, our most important resource. An article by its founders.
Air is food, energy and one of the most endangered resources on earth. Air as a medium is directly linked to climatic conditions. More than anything else it connects every single being with the environmental conditions at any place on earth. We all need clean air to breathe. Without it we can't survive any longer than a few minutes. In the age of the Anthropocene – the era in which men has become the most important factor influencing the biological, geological and atmospheric processes on Earth – air is becoming an essential good and increasingly valuable. The development of climate positive environmental solutions and societal awarness for holistic systems is the focus of work in breathe.earth collective.
breathe.earth.collective (b.e.c) was founded as think-and-do-tank by Karlheinz Boiger, Lisa Maria Enzenhofer, Andreas Goritschnig, Markus Jeschaunig and Bernhard König. b.e.c works transdisciplinary with a focus on non-hierarchical networking. Besides meeting in breathe.earth.collective all team members run individual practices in different fields and scales. All of them have been engaged in socio-ecological projects.
breathe.austria – the Austrian Pavilion at Expo 2015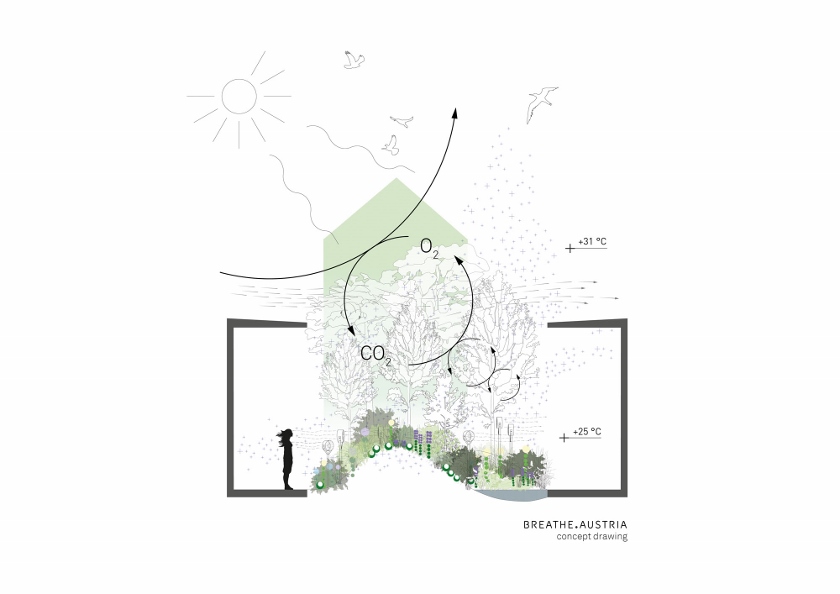 b.e.c has been part of team.breathe.austria, that was in charge for the design and construction of breathe.austria, the Austrian pavilion at Expo 2015. Breathe.austria set out explorative issues in dealing with the globally vital nourishment of air and climate. It has been uniting architecture and the environment to create an integral contribution at the Expo in Milan under the overall topic "Feeding the Planet, Energy for Life".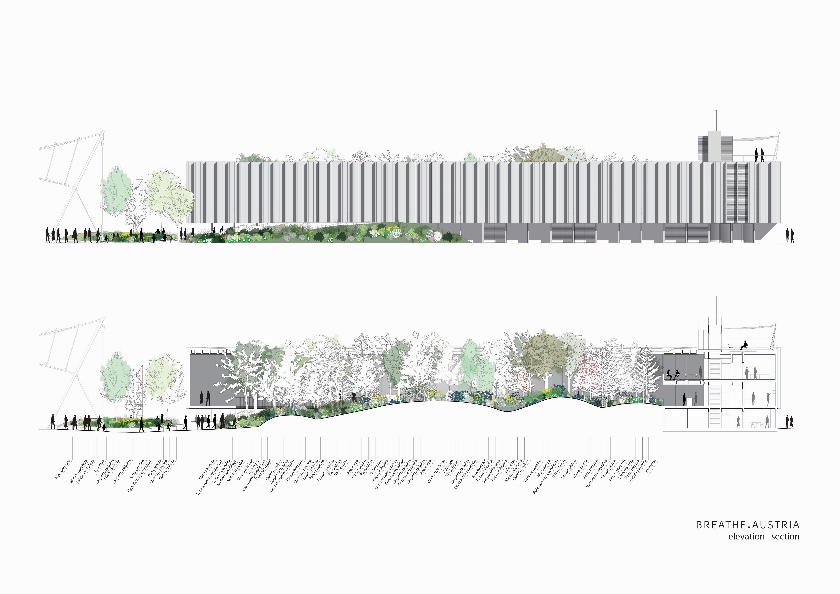 Planting a grove of trees to create 560 m2 of forest, breathe.austria took an exemplary approach – multifaceted and sensory in equal measure – to focusing on our relationship with the environment and climate.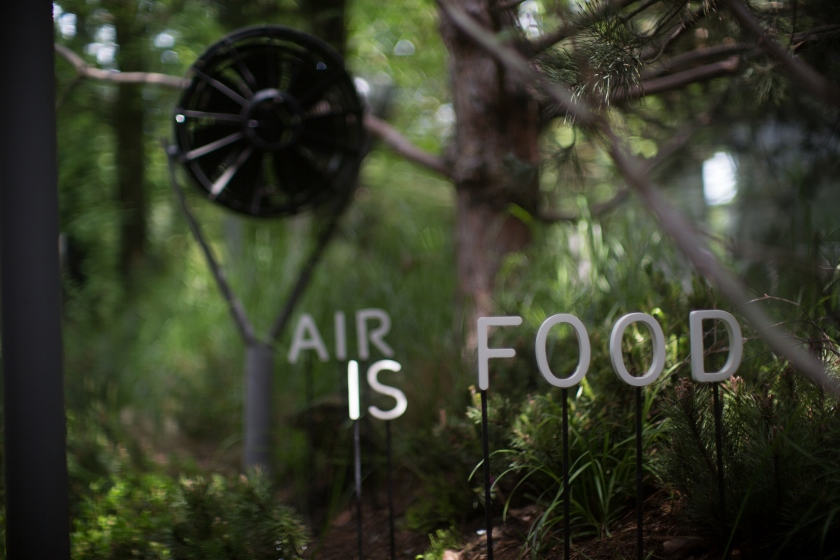 Breathe.austria's entire floor area was densely planted with 12 forest ecotypes, ranging from mosses and shrubs to towering 12-metre trees. It featured an overall leaf surface area or evaporation surface of ca. 43,200 m2 and thus generating enough fresh air each hour for meeting the needs of 1,800 visitors – essentially making it a photosynthesis collector that contributes to global oxygen production.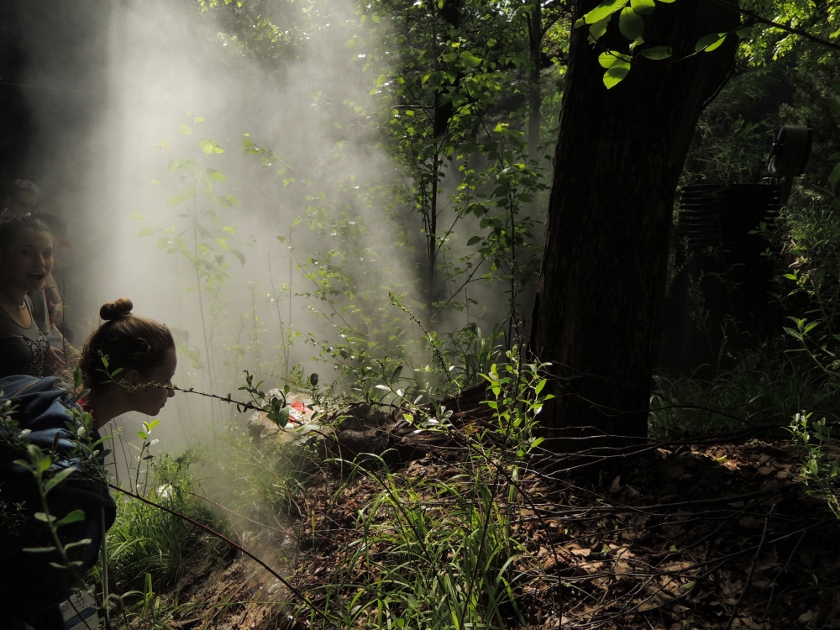 In the pavilion the natural effect of cooling was accelerated by the implementation of technical additions, like fog nossels or mist nossel equiped ventilators. The spray- and fog systems were subdivided in different zones, which allowed the operation of very specific choreographies and reduce the perceived temperature by 5-8°C. The architecture, a wooden framework that surrounded the landscape, created the built boundaries for the unique microclimate to unfold.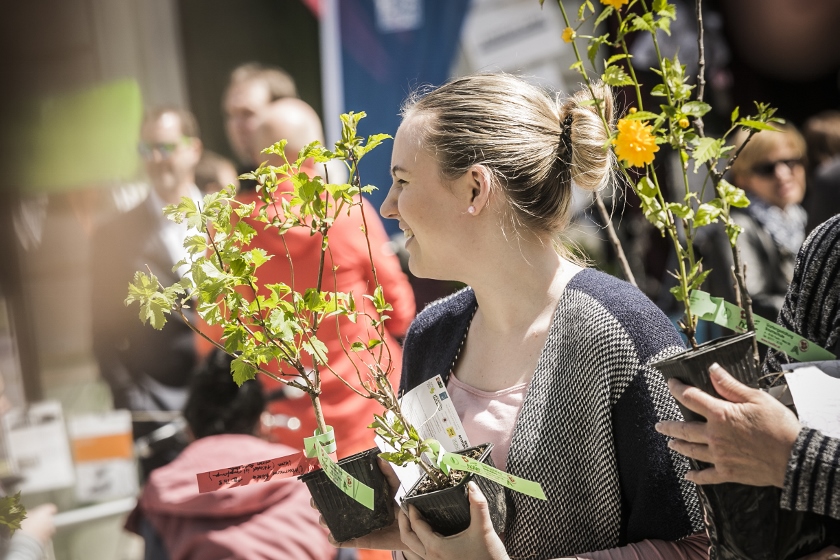 For their succesful realization of their project breathe.austria they have been awarded with the "Grand Award" of Shenzhen Design Award for Young Talents (China) in 2015, the AIT-Award in Germany as well as the award for "Best Pavilion at the Expo".
Parallel to the Expo 2015 in Milan the team has been invited by the European Forum Alpbach to present their project.
Forestbath
In the context of the theme of the Forum Alpbach 2015 "InEquality" breathe.earth.collective created the social installation "forestbath" during the three weeks of the summer conference. The refreshing installation transformed a vacant swimming pool by filling it with hundreds of trees. The pool not only became a social meeting point in the evening, but hosted several concerts, panel talks and discussions on the topics of food, air and resources. Visitors of the installation were invited to descend into the pool and dive into the forest, literally taking an air-bath.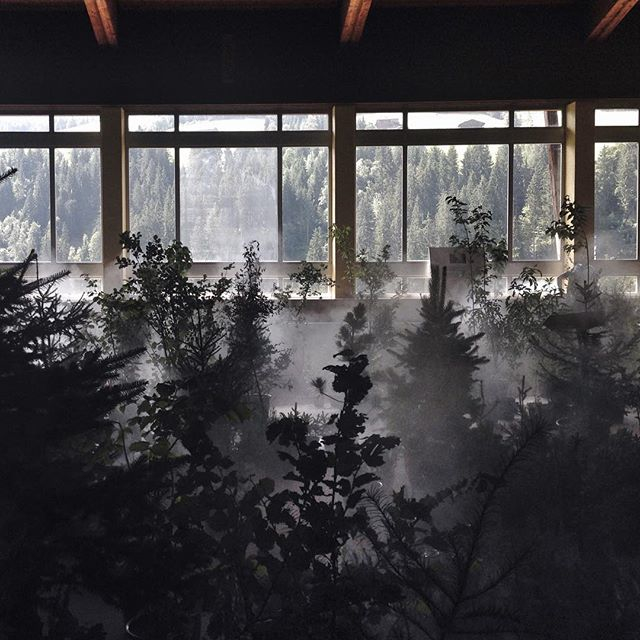 The young forest was assembled from three representative Austrian Forest ecotypes together spruce fir forest, pine-larch forest and a forest edge zone and equipped with technical assistance by high-pressure fog nozzles to create the unique atmosphere.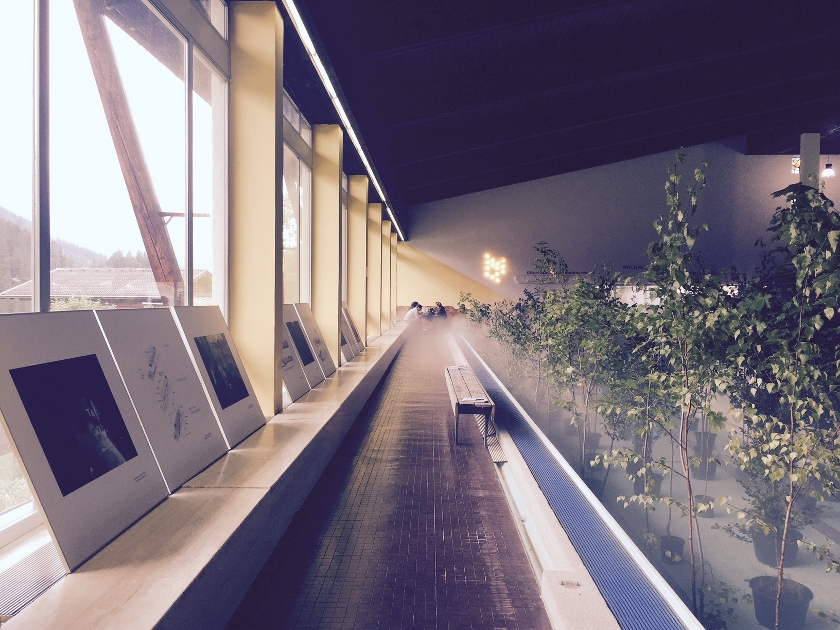 Crowd foresting
This year, Breathe.earth.collective was invited to contribute to the "Umweltzirkus" festival in Graz, addresing the tackling of urban heat islands.
The project "crowd foresting" activated and sensitized the public by giving away more than 700 seedlings to citizens. Participants were asked to plant their choosen trees and submit "tree selfies" from the new "tree home". Everybody was invited to become an active agent in challenging climate change and the amount of city trees in Graz grew by more than 700 new trees within one weekend!
Airship 01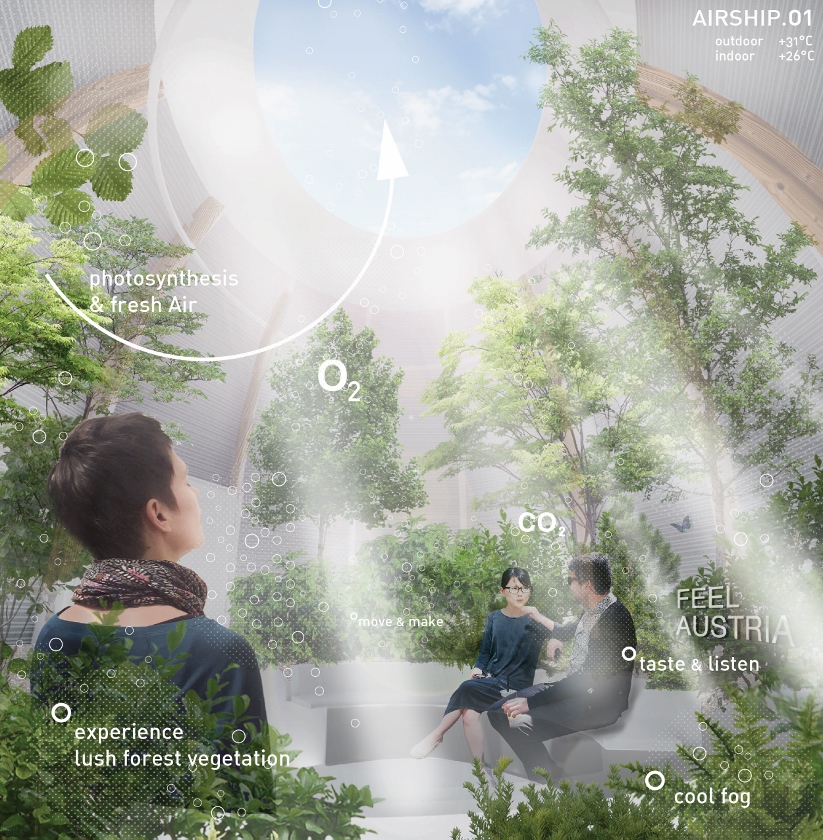 The most recent project "Airship 01" – a mobile breathing space will be presented for the first time in Milan, Padua and Rome. Entering the Airship installation, visitors can feel a rich sensual experience with the whole body and can refresh themselves in the middle of a forest glade, open to the sky – in the center of the city. The installation will travel further on around Europe. Airship 01 will present a new way of interlinking b.e.c's ideas and principles of designing with nature and climate in the urban context.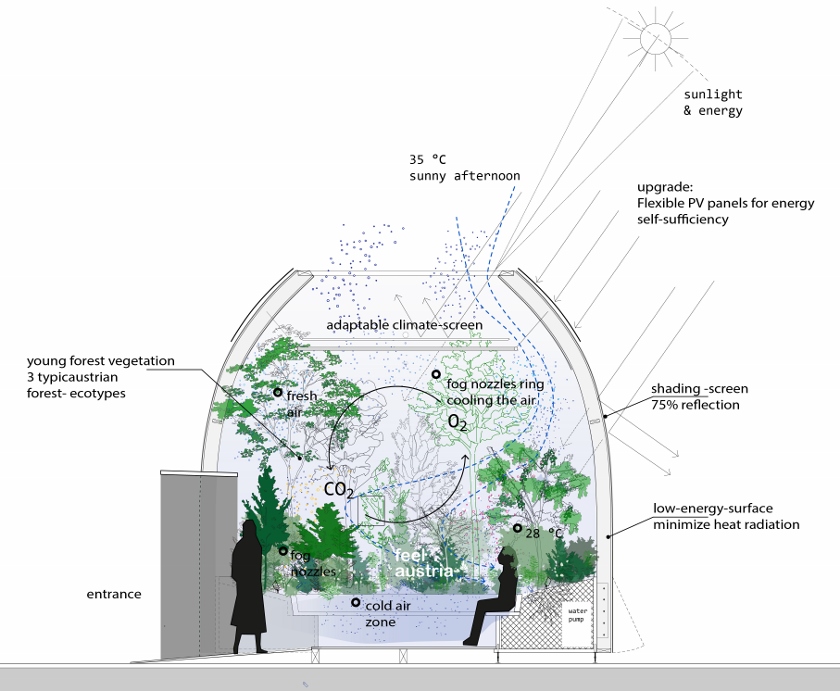 breathe.earth.collective is convinced that there is an urgent need to unite architecture and the environment, technologies and natural systems, to create integral concepts. Future architectures will have to activate natural ecosystems and support them. Technologies will be much more efficient in helping to vitalize ecosystems rather than replacing them and architectural practice will tool this ecosystemic performance. Scientific knowledge should be brought into society by acting and working on projects of different scales. A key of the work is creating awareness by inviting people to take part in activities rather than teaching them how future can be done.