SEAMbiosis
"Architecture is situated within the domain of culture, the primary mission of which is cultivation of the people's values, construction and harmony." Interview with Rrita Pula, Dea Luma and Erblin Bucaliu before the upcoming Prishtina Architecture Week.
Rrita, Dea and Erblin are three young architecture professionals from Pristina, Kosovo. Their project proposal SEAMbiosis has been selected as the winning entry in the Europan 13: Adaptable City II competition for the city of Gjakova, Kosovo. The project site in Gjakova presented a window of opportunity for examining innovative design ideas on how to transform physical obstacles (river Krena) into new connections. It is also worth mentioning that Bucaliu-Pula-Luma is the first team from Kosovo to have ever won an Europan competiton.
Rrita, Dea and Erblin, you recently won the Europan competition for a site in Gjakova. Could you tell us more on how you decided to collaborate and take part as a team?
R, D, E: Europan 13 is the first time we collaborate as a team. The central location and complex anatomy of the project site in the city of Gjakova set forth a very exciting and challenging opportunity for us. Our will to participate, and our response to the problem laid out in the design brief materialized very naturally in many ways. We were able to seamlessly integrate our different academic and professional backgrounds into an organic and coherent collaboration.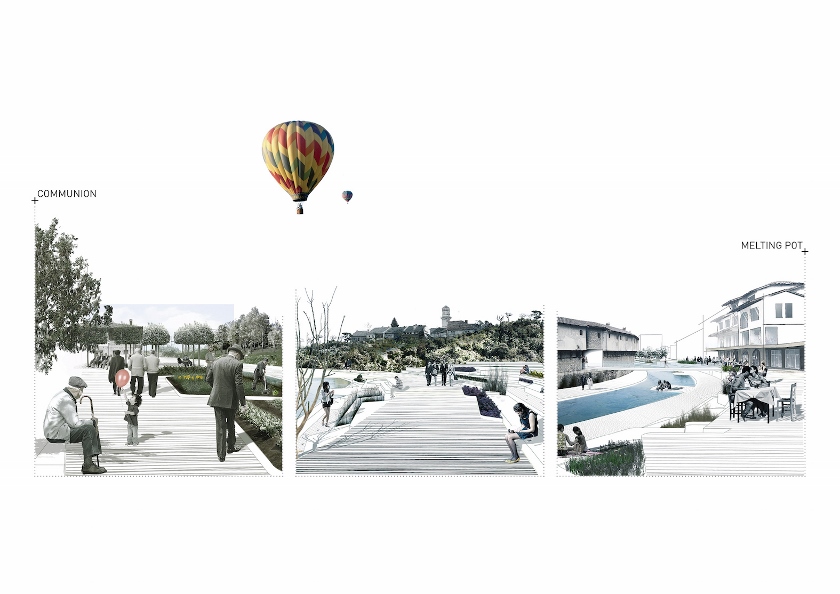 What is the main concept of your proposal and why did it stand out from other proposals?
R, D, E: Our proposal operates at the seam between architecture, urban design, and landscape architecture as mechanisms for improving the individual and collective experience in Gjakova. SEAMbiosis proposes to stitch the historic town with the modern city in order to bring a new perspective to a familiar context. The diverse open spaces along the river Krena, generated around the notions of accessibility, inclusivity and sustainability, function as catalysts for social activities and community engagement.
Additionally, being able to analyze and synthesize our fieldwork findings as a local team was a huge advantage for us. This meant that we could fully examine and understand the site in many dimensions – walk it, touch it, feel it, listen to it, talk to the locals, etc. We tried to draw on these local dynamics to create and redefine the public space. We believe this was manifested in the project proposal and even in the jury comments.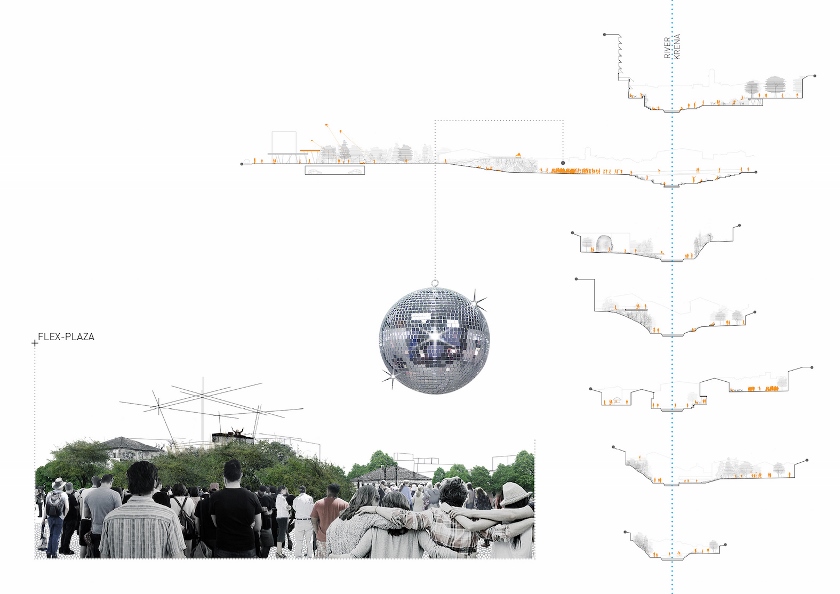 You mentioned that inclusivity is an important issue to you, how did you address that in your proposal?
R, D, E: We believe that river Krena has the potential to be integrated into a coherent urban framework that preserves the sense of community and facilitates interaction due to its central location in relation to city's urban fabric. The proposed diversity of spaces and flexibility of activities along the river provide the infrastructure for a comprehensive city; one that advocates adaptable development of a comfortable and active built environment while ensuring social stability. SEAMbiosis prescribes a network of essentials categorized in three main principles (cognitive, social and physical) as a prerequisite for a comprehensive and inclusive city.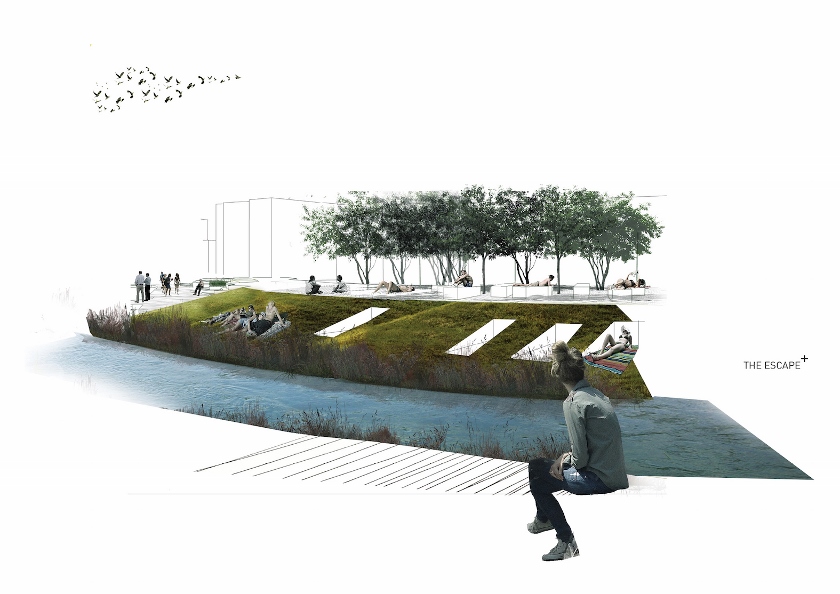 How would you judge the current state of architecture in Kosovo, and what would you change?
R, D, E: It is very difficult to judge the current architectural scene in Kosovo. However, we could say that it is a layered and accumulated complication of an urban-mindset with policy-making and problem-solving ingredients. We believe that architecture, urban and landscape studies are essential tools for better understanding and solving problems caused by social, economical and territorial transformations. Therefore, an articulate public realm – a meaningful and accessible open space that shapes a vital environment to live, work and interact – is pivotal in binding the physically and socially fractured urban fabric of our cities in Kosovo.
You are invited to present your work at the Future Architecture conference which will be held as part of the Prishtina Architecture Week, on the issue of Future Architecture, in your view what is the most pressing issue to architecture at the moment and what do you believe the future holds for the profession?
R, D, E: Architecture is situated within the domain of culture, the primary mission of which is cultivation of the people's values, construction and harmony. Additionally, it has an inherent capacity to conduct the relationship between thought and practice to the contexts in which they exist and must serve. We are witnessing conditions in which the profession of architecture has been shifting into more socially-responsible and politically-involved instrument in improving people's quality of life and the built environment itself. However, in the time of increasing globalism and technology, cities and cultures seek to re-establish their identity in relation to place. This, we believe, calls for design approaches that accommodate the technical, social, spatial and cultural challenges encountered in today's built environment.
What is next for you?
R, D, E: Together and separately, we consider the first prize in Europan 13 an important milestone in our careers as architecture professionals. We are exited to continue the dialogue with the Municipality of Gjakova and we look forward to the opportunity in contributing on the future development of the city. At the same time we look forward to carry on our aim to grow into architects, designers, scholars and researchers of the next generation.