UrgentCity presents a New Urban Vocabulary
The initiative, curated by Amateur Cities (NL) and New Generations (IT), will be officially presented at the Palazzina Reale in Florence on November 11- 12th, 2016 during a two-day event comprising of workshops, round table discussions and a keynote presentation.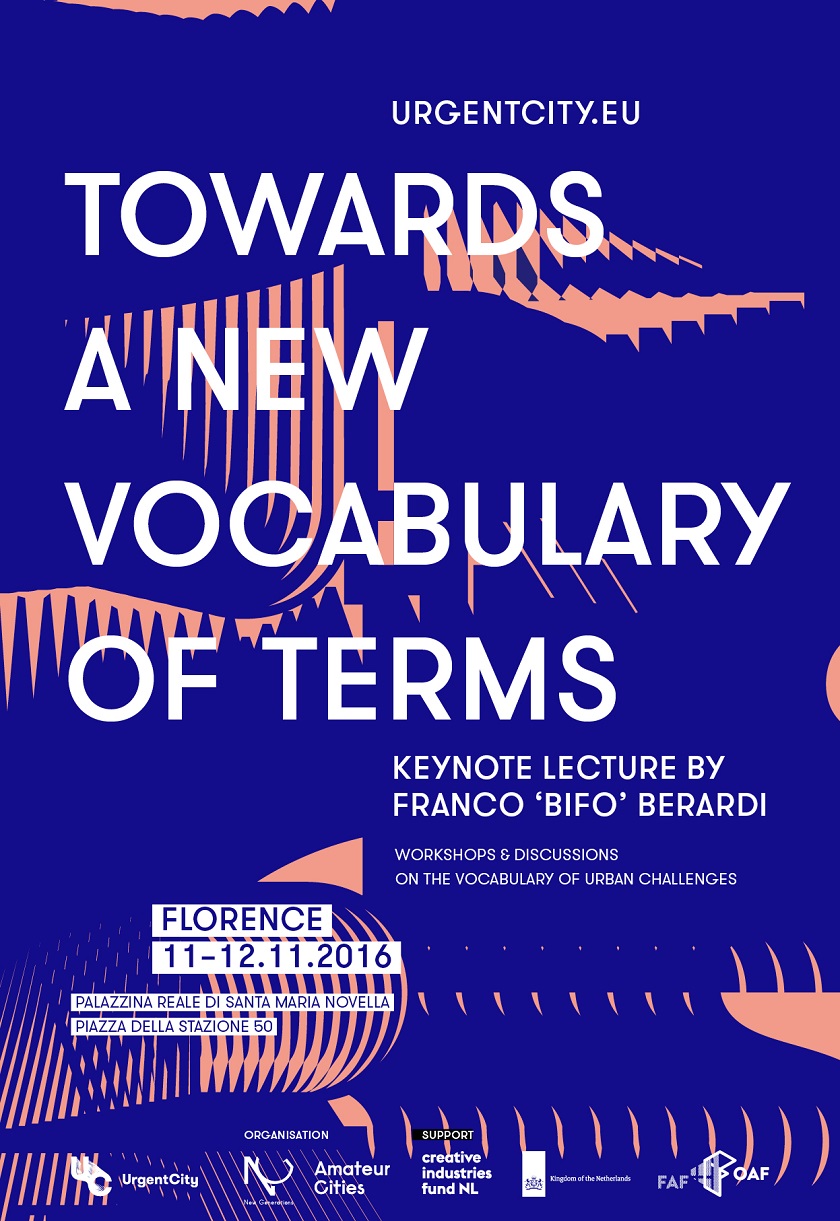 As an urban habitat, cities offer abundant opportunities, but at the same time, they face many challenges on many fronts, such as the environment, economy, technology and society. In the near future, citizens, governments and NGOs will need to be actively involved in the urban discourse, and to approach city planning collaboratively. By crowdsourcing ideas from a variety of contributors, Amateur Cities and New Generations aim to co-create a multidisciplinary epistemological framework of existing and new terms, and to take several crucial steps towards a new, accessible, urban vocabulary.
A public event will conclude the research phase, gathering the general public, experts and local government representatives to discuss four main topics: New Ecologies - regarding the relationship between urban environments and nature; Urban Assets - regarding the structure of today's cities; Digital Toolkit - regarding digital governance and eLearning; and New Collectives – regarding the growing population and community sentiment. Together with the keynote speech by philosopher Franco "Bifo" Berardi, several international guests will fuel the debate: Tiziano Bonini (researcher in media sociology), Zoe de Luca (Diorama Editions), Estudio SIC / VIC, Rebekka Kiesewetter (Depot Basel), Joshua Thies (artist), Katía Truijen (Het Nieuwe Instituut), and many more.
UrgentCity - Towards a New Vocabulary of Terms is a research project and activities program that investigates the role of language in diverse disciplines that contribute to building today's cities. UrgentCity aims to understand the words that define the contemporary inter-disciplinary vocabulary, and that will work as a basis from which to address urgent urban matters. The project has engaged the public at three different stages. The first phase was based on an "open call" for terms, in order to crowdsource information about the current state of urban vocabulary. To delve deeper into this mission, the curators took a closer look at the possibility of a shared discourse, by producing twenty video interviews with experts from different disciplines. These include: Lilet Breddels (Volume, Archis Foundation), Christian Iaione (LabGov LUISS Guido Carli), Stefano Mirti (Id-Lab), Luca Molinari (architecture curator and critic), Marleen Stikker (Waag Society), Willem Velthoven (Mediamatic), and Tiziana Villani (philosopher, NABA).