Open Call: Workshop Mystetskyi Arsenal at CANactions 2017
The 10th edition of CANactions festival has announced the call for participants at the international workshop taking place in Kiev, UA, from 29 May - 3 Jun, which will propose spatial development scenarios under guidence of Future Architecture alumni tutors. Deadline for applications is 7 May!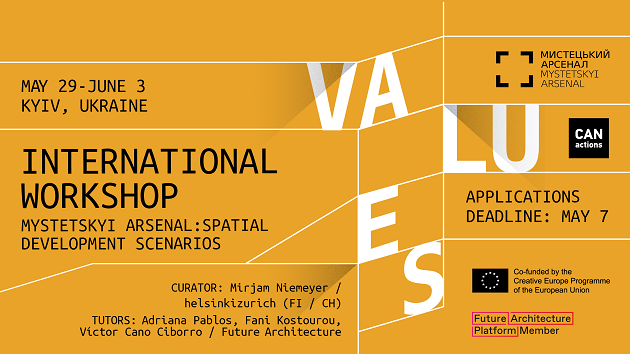 The workshop is aimed at elaboration of the spatial and experience development scenarios for 'Mystetskyi Arsenal' established by the interdisciplinary teams under the guidence of curator Mirjam Niemeyer (helsinkizurich) as well as tutors Fani Kostourou, Adriana Pablos Llona and Víctor Manuel Cano Ciborro.
National Cultural-Arts and Museum Complex 'Mystetskyi Arsenal' is a large-scale cultural project of national and international importance in the historic center of Kiev. Nowadays the Mystetskyi Arsenal complex is partly in a state of reconstruction and only 12.000 square meters of the Old Arsenal building of 56.000 sq.m are being used for art projects and events.
The workshop is open to up to 24 participants, who are critically-thinking practitioners, researchers, and artists with background in urban design, city planning, and architecture, economics, political and cultural studies, journalism, sociology and other related fields. There is no tuition fee and CANactions will provide accommodations, board and free tickets to all CANactions 2017 events.
Deadline for applications is 7 May.