On Power in Architecture: A Materialist Perspective
Future Architecture Festival
27 Aug 2017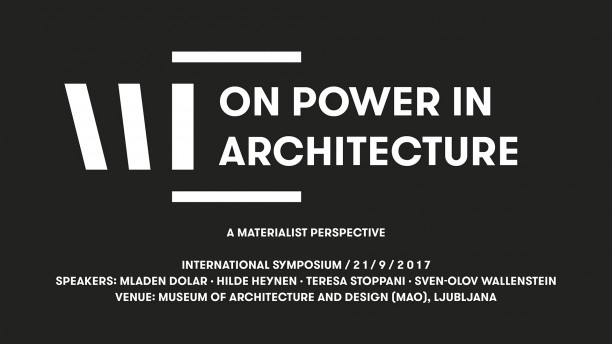 Architecture has served throughout history as one of the most prominent tools of power, functioning as both its representation and its manifestation, embedded as it is within the public and the private realm. The symposium aims to facilitate a critical discussion on the topic, while brining thinkers and practicioners together to propose concepts to reflect on the intertwined relation between power and architecture. The lectures will focus mainly on philosophers and theoreticians from a materialist background, taking into consideration among others Freud, Tzonis, Tafuri, Adorno, and Foucault, and will start from a selected architectural case study.
The Slovenian philosopher Mladen Dolar will talk about Power and the Architectural Unconscious, using the renown case of KSEVT in Slovenia, the Belgian architectural theoretician Hilde Heynen will deliver a lecture on Architecture, Power, and Embodiment, taking into consideration 3 contemporary parks. The Swedish philosopher Sven-Olov Wallenstein will talk about Foucault and the Spatialization of Power, while the Italian architect and architectural theorist Teresa Stoppani will focus on Manfredo Tafuri and his critique of Le Corubiser's urbanistic projects for Algiers.
Schedule
| | |
| --- | --- |
| 10.00 – 10.15 | Opening remarks On Power in Architecture, Mateja Kurir |
| 10.15 – 11.15 | Hilde Heynen: Architecture, Power, Embodiment |
| 11.15 – 12.15 | Teresa Stoppani: Manfredo Tafuri: Progetto storico (the historical project) as Political Project |
| 12.15 – 12.45 | Discussion with Hilde Heynen and Teresa Stoppani |
| 12.45 – 13.30 | Break |
| 13.30 – 14.30 | Mladen Dolar: Power and the Architectural Unconscious |
| 14.30 – 15.30 | Sven-Olov Wallenstein: Foucault and the Spatialization of Power |
| 15.30 – 16.00 | Discussion with Mladen Dolar and Sven-Olov Wallenstein |
Free admission.
Conceived and organised by: Igor Zabel Association for Culture and Theory in collaboration with Mateja Kurir. More.
More on Future Architecture Festival.