Twenty Years Oslo Architecture Triennale. Conversations about the city
#Talks
Oslo Architecture Triennale, Oslo, NO
Oslo, NO / ONLINE
Oslo Architecture Triennale – Future Architecture Autumn Programme is part of OAT's 20 jubilees.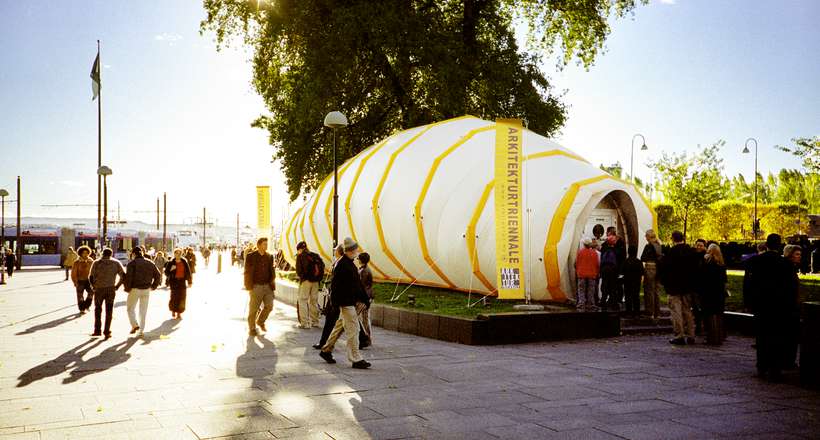 © Oslo Architecture Triennale 2003: The pavilion "Larven" by MMW architects. Photo: Martin Adolfsson.
This year it's 20 years since the Oslo Architecture Triennale was established in 2000 and we can celebrate seven editions of the festival. For the jubilee, OAT launches a new digital arena that will present a full week programme from 12–18 October.
The anniversary is an opportunity to reflect on conversations and topics that have embossed both OAT and the city over the past 20 years. With history and the OAT archive as a starting point, we will use the anniversary to discuss how both the city and the Triennale can be further developed.
The anniversary programme will unfold through a series of various formats, including live streamed conversations and debates, new episodes of the podcast Arkitekturpodden, and a series of essays written by the curators of the seven Triennale editions. Three FA Fellows have been selected to develop projects for the programme - using the OAT archive as starting point, together with exciting methods of practice:
Monday 12 October at 12.00-13.00 - In conversation with forty-five degrees
Live-stream in the Lounge Room
The Berlin-based architecture and urban design practice forty-five degrees has developed the project "Oslo In Action(s)" for the jubilee. "Oslo In Action(s)" is a digital atlas that maps and shines light on the diversity of city-makers who take care of their neighborhood and community through tactical, inventive actions and rituals. Oslo In Action(s) will be launched on Monday 12 October 12.00.
Tuesday 13 October at 12.00-13.00 - In conversation with Will Jennings
Live-stream in the Lounge Room
The British architectural writer Will Jennings has developed the essay series "Fragments" for the jubilee. "Fragments" is a series of seven interviews, one for each iteration of the triennale. In the series, Will Jennings is exploring some of the individuals, places, ideas and actions that have shaped twenty years of OAT. The seven interviews will be launched on 12-18 October at 20.00.
Thursday 15 October at 18.00-20.00 - In conversation with curators
Live-stream in the Lounge Room
Meet the curators of the triennale in a digital conversation across history and triennale editions, discussing both the past, the present and the future. The conversation will be moderated by OAT director Hanna Dencik Petersson.
Friday 16 October at 12.00-13.00 - In conversation with Mies.TV
Live-stream in the Lounge Room
The young international architecture and video network Mies. TV, together with students from Oslo School of Architecture and Design, has produced a film series based on topics from OAT's archive and history, interviewing people who either participated in the Triennale or whose work is connected to the themes. The five episodes will be launched on 12-16 October at 11.00.
More info in the full schedule.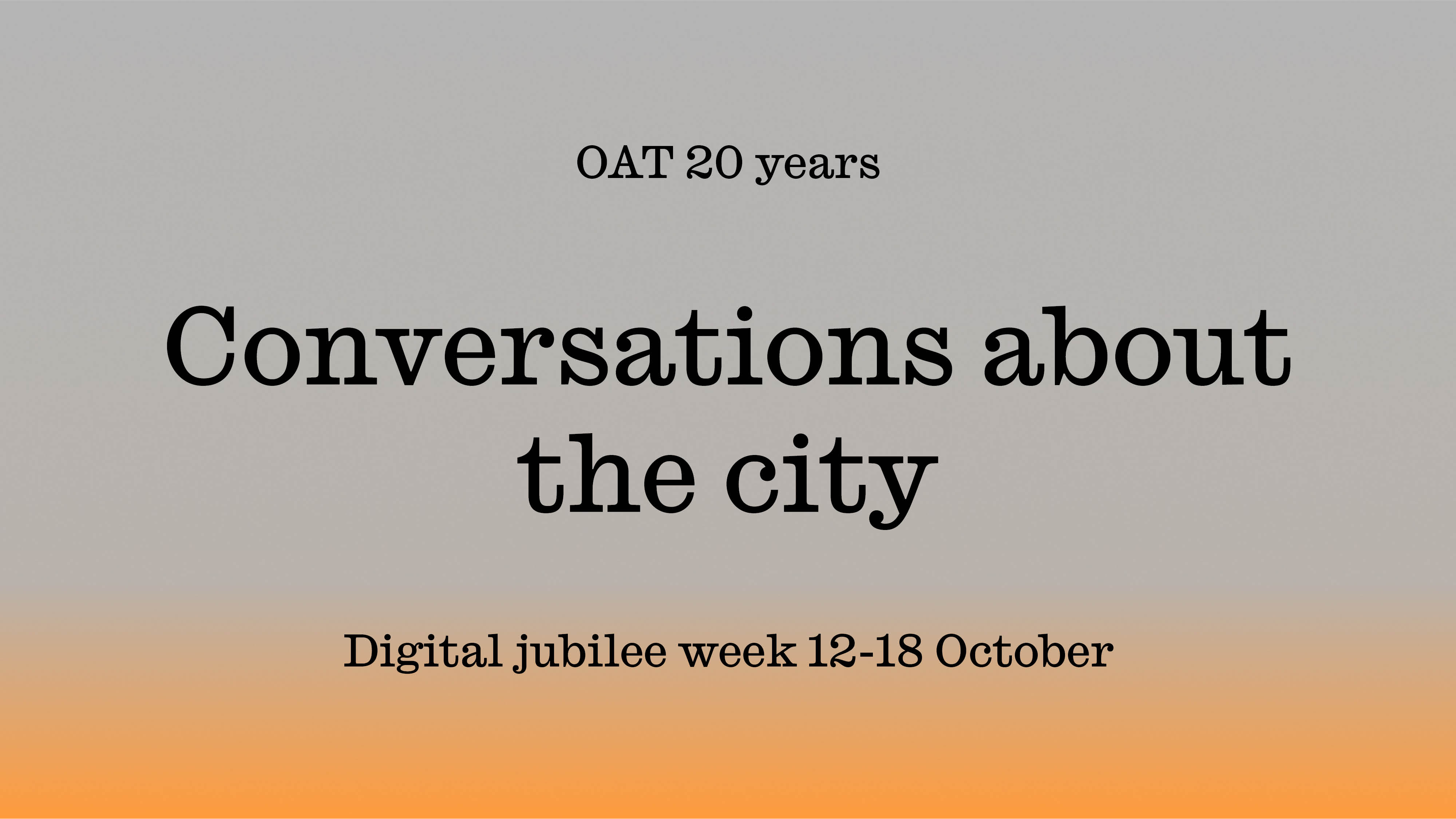 Related