Revisiting Future Architecture Collections
#Exhibition
Lisbon Architecture Triennale, Lisbon, PT
Palácio Sinel de Cordes, Lisbon, Portugal
The collections of different museums that are members of the Future Architecture Platform are the starting point for a new architecture exhibition to be hosted at Sinel de Cordes Palace, from where Lisbon Architecture Triennale operates.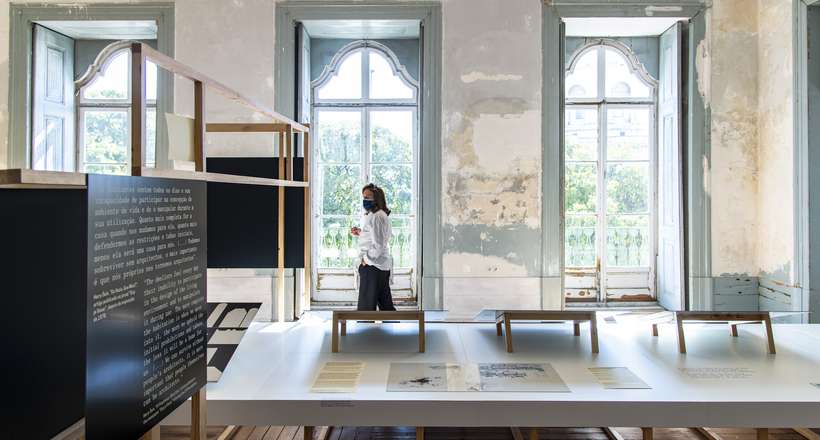 Photo credits: Handle with Care: Tales of the Invisible exhibition, 2020 © Hugo David/Trienal de Lisboa
The exhibition, commissioned, coordinated and produced by the Lisbon Triennale, is to feature selected works from one or more collections from the seven platform members that have one (MAO, MAXXI, S AM, Gulbenkian Foundation, Museum of Estonian Architecture, Museum of Architecture in Wroclaw, Royal Academy of Arts).
In the words of Anna Ulrike Andersen, selected to curate this project, "The exhibition aims to revisit – and rethink – what the Future Architecture Collection may be, by displaying material from the collections at the participating European institutions. As we live longer, chronic illness and disabilities are becoming a greater part of our lives. [The exhibition] aims to uncover a series of alternative and creative strategies we use to navigate our built environment. . Each room [of the palace in Lisbon] will consist of material from the archives from the Future Architecture Collection, which is re-framed by voices of people living with chronic illness that I have gathered in my work to date."
It is our goal to bring to a wider audience works that might not have been shown in specific contexts and call attention to architecture collections. By involving emergent creative to curate and design the exhibition we pursue to continue to bring a fresh and new way of approaching architecture collections and showcase architecture. The exhibition takes place in the entire main exhibition space of the Lisbon Architecture Triennale headquarters.
Enter ROOM 1
Enter ROOM Architecture & Education
Related