Archifutures Vol. 4: Thresholds
#Book
20 Feb 2016 - 31 Oct 2017
THU 26 Oct at 9 pm, book launch
dpr-barcelona, Barcelona, ES
Trienal de Lisboa, Espaço Espelho d'Água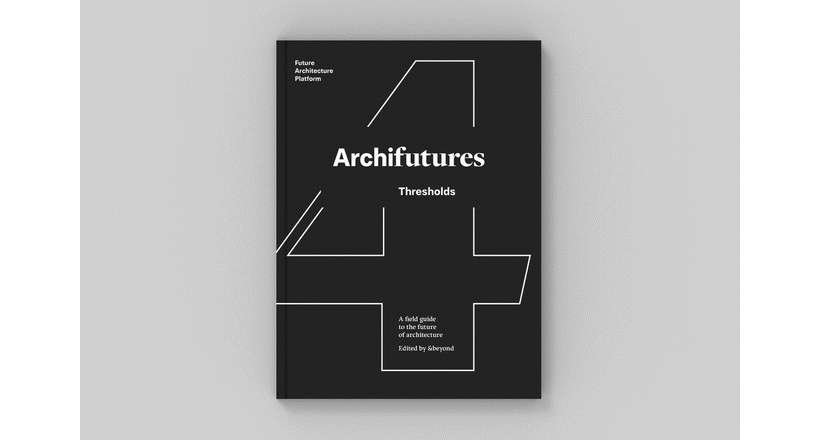 Book Launch
October 26th 2017 21:00h
Trienal de Lisboa, Espaço Espelho d'Água.
As part of the Critical Distance #3 event in Lisbon organized by the Trienal de Lisboa, Archifutures Vol. 4: Thresholds will be launched at 21:00h, with the participation of Ethel Baraona Pohl (dpr-barcelona) and Fiona Shipwright (&beyond).
Archifutures Vol. 4: Thresholds
A field guide to navigating the future of architecture
How can you navigate towards something when there are no fixed points, when you cannot determine your position? How do you know where to go, or even know when you have got there?
This fourth volume in the Archifutures series investigates how architecture, traditionally considered to be a future oriented activity, can best respond as we find ourselves on the threshold of a "post-futurist" condition where the future is not necessarily ahead of us, but everywhere and – perhaps most especially –"now".
Contributors: Nora Akawi, Florian Bengert, Filipe Estrela, Mariabruna Fabrizi, Nikita Gyawali, Ana Jeinić, Holly Lewis, Fosco Lucarelli, Brett Moore, Sara Neves, Paolo Patelli, Pedro Pitarch, Blanca Pujals, Benedikt Stoll, James Taylor-Foster, John Thackara and Andreas Töpfer, José Tomás Pérez Valle, Marta Fernández Cortés, Arquitectura Subalterna, Ilirjana Haxhiaj, Jeta Bejtullahu, Oliver Goodhall, Fiona Shipwright, and Janar Siniloo.
Edited by Sophie Lovell and Fiona Shipwright – &beyond
Published by dpr-barcelona, Fall 2017.
Archifutures is the publishing project accompanying and expanding upon the Future Architecture platform, a Europe-wide network and EU-funded initiative set up by the Museum of Architecture and Design in Ljubljana. It features projects and initiatives from young practices supported by the network as well as contributions from more established voices that are helping to shape the architecture, cities and societies of tomorrow. The ongoing Archifutures series is a truly European collaboration: originally conceived, edited and designed by the publishing collective &beyond, it has now evolved into a pioneering digital and print project masterminded by dpr-barcelona, publishers and Future Architecture platform members. It merges the possibilities of critical editorial work, innovative printing and active user intervention allowing readers to select texts from the series online, according to individual interest, and order their own custom compilations.
More.
Related