Belgrade Energy Spots
#Exhibition
BINA Belgrade International Architecture Week, Belgrade, RS
Cultural Center of Belgrade, Art Gallery and Podroom Gallery, Knez Mihailova 6, Belgrade, Serbia
The exhibition presented the vision of Belgrade in the near future. It investigated the energy potential of certain city locations in the context of constant change, searching for the creative solutions within inevitable limitations, possibility of regeneration (re-use, re-energize) with the purpose to achieve better quality of life, rational use of space, energy saving, but also to achieve ''the pleasure of architecture'' (Bernard Tschumi).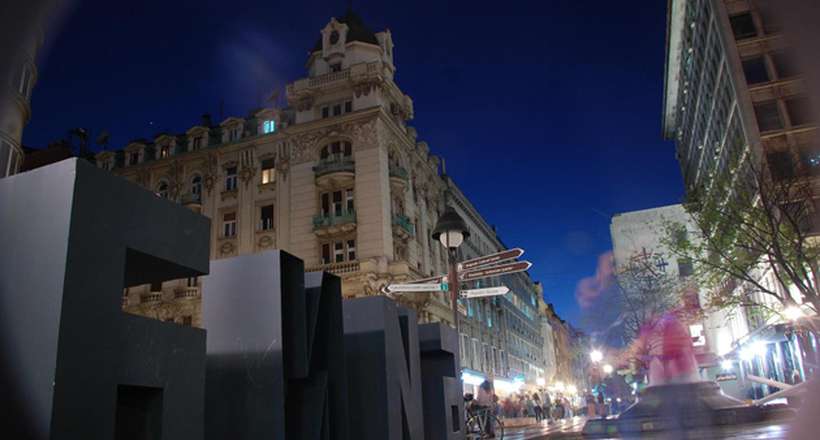 THE URBAN YOGA by Anja Humljan (Slovenia)
Increasingly more people are convinced that the urban environment limits our freedom and causes stress. But still, ever more people live in cities. The Urban Yoga is raising the awareness about the importance of well-designed space around us. It is a call to action to design spaces that are not only visually stunning and technologically advanced, but are designed to please our whole body and all of our senses. Research shows that what we smell, touch, taste, see and hear subconsciously defines best if we feel good in a space. The Urban Yoga consists of photo series, a video and a theoretical research presented in a photo book. The Urban Yoga photos are metaphors for the way our bodies identify and respond to the space around us; while moving through a space we subconsciously measure and mimic the space with all of our senses at once. The Urban Yoga photo series are collaborations with local photographers. The Urban Yoga Beograd is made by Dušan Djordjević.
BARTLEBY IN BELGRADE by Miloš Kosec (Slovenia)
The exhibition "Bartleby in Belgrade" tries to relativize notions of ruins and decaying spaces within the city. Conventional imagery of war ruins and postindustrial voids are joined by entrepreneurial "developments of potentials" and unoccupied new buildings. "Bartleby in Belgrade" explores the possibility of architectural statement "I would prefer not to" as a technique of resistance – eliminating past and future potentials and thus making possible inhabiting the now.
More on the exhibition.
Read the selected ideas: The Urban Yoga | Ruincarnations