Living with Water - Southern Fringe of Ljubljana
#Exhibition
18 Oct 2018 - 24 Mar 2019
Exhibition Opening: 18 Oct at 19.00
MAO Museum of Architecture and Design, Ljubljana, SI
MAO, Rusjanov trg 7, Ljubljana, Slovenia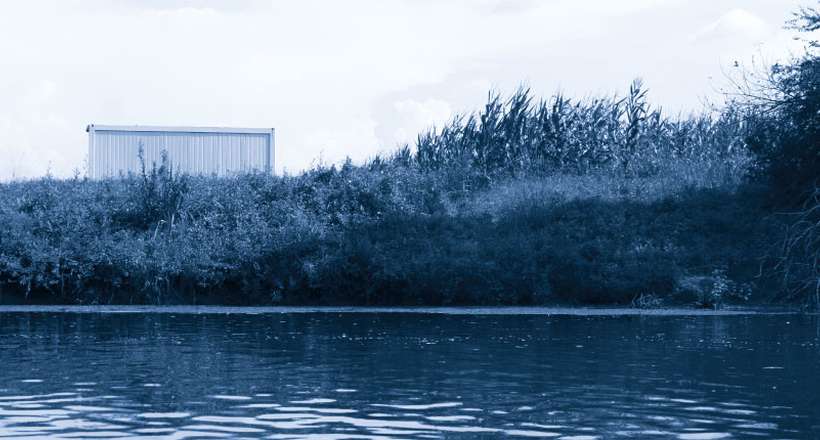 © Illegal settlement along the River Ljubljanica by Milan Dinevski, Benja Pavlin
The Museum of Architecture and Design (MAO) presents Living with Water – The Southern Fringe of Ljubljana, an exhibition that looks at alternative urban development scenarios that consider the synergetic relationships between humankind and the natural environment, as rising sea levels and melting icecaps brings the issue of living with water to the fore, extending across both local conditions and global shifts alike.
The modernist mantra of the 19th century was expressed in the premise of taming nature by building infrastructure that would transform nature from something wild and divine into a domestic and controllable resource. This notion prevailed throughout the 20th century, and saw the creation of dams, regulatory interventions, bridges, the capping of water wells and other forms and feats of engineering, often on a colossal scale. With this in mind, the exhibition raises the question – what should a 21st century model for living with water look like?
Instead of fearing water and related threats, could we imagine a future where we built systems that as flexible as the changing water levels? Instead of protective measures against environmental hazards, could we consider developing smarter, more inclusive human-natural living environments?
By offering a framework in which to test these alternative scenarios, the exhibition, as a case study, explores the Ljubljansko Barje area, a former marshland along the Ljubljanica River. As an area rife with contradictions it is, on the one hand, a protected natural reserve, while on the other the area is under ever increasing pressure to urbanize. It is a rich reservoir of fresh underground drinking water that is under threat of contamination – not least from existing settlements there, which lack proper sewage systems.
Nevertheless, Barje has immense potential, both for development and as a unique ecosystem. What kind of architectures could we imagine in the area, keeping in mind both local and global concerns? How can we go beyond the "economy of crisis" and "cleaning up after the storm has passed" kind of thinking that we regularly encounter and practice, and which pursues and results only in short-term gains?
These questions and ideas will be conceptualized and presented by the curatorial team of Špela Šubic, Milan Dinevski, Nikola Pongrac and Damjan Kokalevski through archive materials in a museum environment. At the same time Future Architecture Platform participants SET-Architects, Phi, Maite Borjabad, SKREI, and Miruna Dunu will tackle these issues by developing artistic and architectural scenarios according to a mindset that has already shifted towards a new societal paradigm – one that proposes a radical co-existence with nature without denying the prospects for economic and technological development.
The opening will be accompanied by a multidisciplinary conference at the Museum of Architecture and Design, which will explore and discuss the relationship between architecture, spatial planning and water, both past and present, and what this relationship should look like in the future. Guest speakers will include climatologist Dr Lučka Kajfež-Bogataj, Dr Mitja Bricelj from the Slovenian Environmental Agency, and Hans Brouwer from the Dutch Rijkswaterstaat.
Living with Water – The Southern Fringe of Ljubljana a part of the Future Architecture Platform program. Together, the exhibition and conference represent the final act of the Living with Water project, which was created by MAO director Matevž Čelik and was kick-started with the opening of the Slovenian Pavilion at the 16th Venice International Architecture Biennale in 2018.
LIVING WITH WATER PROJECT
Concept and management: Matevž Čelik
LJUBLJANA EXHIBITION
Curators: Špela Šubic, Milan Dinevski, Nikola Pongrac, Damjan Kokalevski
Future Architecture participants: SET-Architects, Phi, Maite Borjabad, SKREI, Miruna Dunu
Design: Benja Pavlin, Damjan Kokalevski, Milan Dinevski, Some Place / Bika Rebek
Professional collaborators: Marta Vahtar and Natalija Lapajne
Educational programme: Natalija Lapajne, Elizabeta Petruša Štrukelj
Public relation: Ana Kuntarič
Marketing: Nataša Celec
Technical staff: Matjaž Rozina, Tadej Golob
Translation: Andreja Šalamon Verbič
Proofread: Katja Paladin, Jeff Bickert



Related