Tirana Design Week 2017: Design for an Inclusive Future!
#Conference
Tirana Architecture / Design Week (TA/DW), Tirana, AL
Tirana, Albania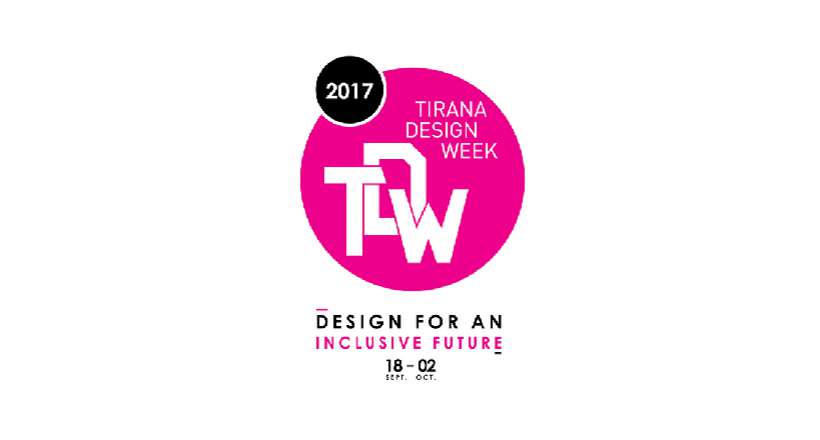 TDW – TIRANA DESIGN WEEK is the first event dedicated entirely to design in Albania, and a biennial event that bring a series of happenings to the city that aims to promote the exchange of knowledge between professionals at both the national and international level. The event works toward raising the general public's interest in planning, architecture and design as disciplines closely connected to the contemporary development of cities, and to promote participation in decision-making and development processes.
Tirana Design Week 2017, organised by Polis University, aims to promote the concept of Inclusivity for a better future through design. Tirana Design Week 2017 – "Design for an Inclusive Future" will investigate alternative, bottom-up strategies toward an inclusive approach in Tirana. Designing for the few (for the weakest or the most difficult to satisfy) could well prove a strategy that succeeds in designing a better city for all. Design should be conceived as a tool that can produce innovative and highly valuable solutions and establish or evaluate the value of design in terms measured not only in monetary terms or scale but also by the its ability to improve or contribute to the quality of life. Similarly, it should serve less "commercially-interesting" individuals, a scheme that could contribute to creating a shared guide or handbook for social improvement, to new and innovative design opportunities that are more empathetic, toward equality for all of society and a "city for all." Inclusivity should therefore not only be manifested as a physical intervention and product, but rather as a thinking strategy that provides an accessible and "city for all" idea of design.
As in previous years, TDW 2017 will continue with events such as lectures, workshops, debates and exhibitions led by prominent artists and architects from Albania and the rest of Europe, like Pippo Ciorra, Francesco Zurlo, José Mateus and others, as well as creative like Erika Petric, Studio NO, Maciej Stasiowski and Anyla Berisha. Check out the full programme!
The first act of TDW 2017 is the Empowering Inclusivity Competition launched in August, where designers, architects, engineers, planners are invited to propose designs that empower, advance, and include those groups of people that are often overlooked in and from the design process. The deadline for applications is 17 September 2017, with the winning proposals announced on 27 September. More.
Platform participants will feature prominently at this year's Tirana Design Week. Workshops under the guidance of the creatives selected from the platform will finish with exhibitions, where the final projects will be shown to the public; an exhibition at Polis University will unveil the results of research on the future of architecture in Europe; and the informal setting of Pechakucha Night Tirana Vol 04 will serve as a forum for the vibrant and lively exchange of ideas on design, architecture, and cities in general.
An Array of Exciting Workshops
18–30 September, Polis University, Tirana
This year, Tirana Design Week offers six different workshops held at Polis University, each concentrating on a specific area of design: fashion design / product design / photography / sound design / landscape design and more. Join the workshops and APPLY NOW!
The first part of TDW 2017 (18–23 September) will feature two workshops: Fashion Design with Joana Dhiamandi will explore and create inclusive fashion for all ages through city patterns and design, while Erika Petric will hold an experimental workshop on photography in architecture and urban space entitled Second Glance. The second part of TDW 2017 (25–30 September) will feature three workshops under the guidance of Future Architecture creatives. The Workshop Tirana Learnscape Pavilion by Miha Čebulj is a research project on open, inclusive and responsive architecture that enables and promotes different uses of public space to facilitate social interaction and meaningful communication between different social entities. The workshop will close and result in a built structure – an outdoor pavilion created out of a process of experimental and innovative design and manufacturing. The City Patch workshop with Magda Szwajcowska & Michał Majewski will be patching "holes" in the urban tissue of the city with temporary architecture as a low-cost experiment with the potential to inspire longer-lasting actions. In her workshop Sonique Illusion, Anyla Berisha will use sound as a design tool to identify "good" architecture. The series of diverse workshops will be complemented by Greg Andoni & Sonia Jojic's workshop focusing on industrial design. More on the workshops.
Seven Questions for the Future of Architecture
Exhibition opening: 20 September at 18:00, Gallery of Arts, Tirana
One of the highlights of Tirana Design Week 2017 is a project by POLIS University. A series of interviews conducted with international architects, artists, anthropologists and intellectuals will create a framework for understanding the state of architecture in contemporary society. The goal of this research is to detect common points in architectural developments and future visions of the state of architecture in Europe. The project is curated by Joana Dhiamandi, Saimir Kristo and Joan Ikonomi. More.
PechaKucha Night Tirana Vol. 04
22 September at 20:00, Destil Albania, Tirana
PechaKucha Nights are fun and informal gatherings where creative people get together and share their ideas, work, thoughts and holiday snaps, all in the PechaKucha 20x20 format. If you have an interesting idea, project or story you want to share with others in a concise and entertaining format, come take part and become a PKN Tirana Presenter. Apply at info@tiranadesignweek.com. Find out more!
Related