Archifutures Vol. 5: Apocalypse
#Book, Publishing
dpr-barcelona, Barcelona, ES
Barcelona, Spain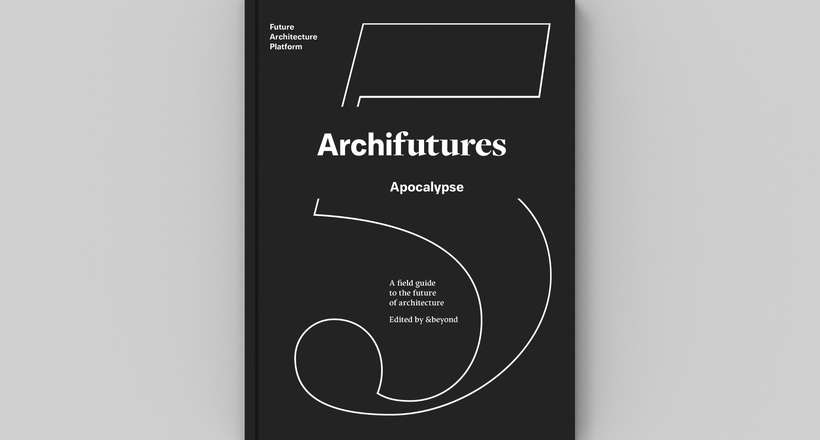 The fifth volume of Archifutures – a publishing project by dpr-barcelona and edited by &beyond is finally out and will soon be available in bookstores across Europe. With essays, interviews and projects by young practitioners and experts, Archifutures Vol. 5 deconstructs and remolds the notion of "apocalypse" – to neutralise its drama and to reconsider what it means to live in an age of revelation. What are the futures that these young practitioners aim to reveal? What are the new prototypical mechanisms of resilience and survival under construction as we speak? How will they manifest themselves in the built environment?
Archifutures Vol. 5 contains seven sections of guidelines that are intended as a provocation for architects to share them, work with them, improve them, and – above all – use them to help build a better future:
Everyday End of the World – Climate change, resource shortages, disasters and mass migration: for millions around the world living under apocalyptic conditions is an everyday reality. We all need to recognise that fact and adapt our thinking accordingly.
Adapt and Survive – The reality of the apocalyptic condition is quite mundane. Surviving it is not about building bunkers, it is about changing our approach and building resilience in an everyday way. This is where architects come in.
Radical Hope - Reactionary politics rely on a pessimistic view of the future. It is an inflexible stance that does not encourage new solutions. To hope for a better future is thus a radical act. Real change can only come with hope.
Between Consensus and Dissent – An ongoing apocalyptic process requires constant negotiation. If reached, consensus may not last. But dissent and conflict are two different things. There are many benefits to agreeing to disagree.
Progressive Degrowth – The deconstruction of inefficient and exploitative systems in the present is much better than reconstruction after they have failed. Growth can no longer be the ultimate aim. It's time for us to acknowledge and embrace the limits.
Interdependent Individuality – The technologies of the digital age are not inherently problematic, they are tools that can be used for oppression, but also empowerment. We can recode and redistribute our technological intelligence into technological agency.
Our Futures – The Apocalypse is typically understood as a radical moment of change, after which things will never be the same. Architects must seize this apocalyptic moment to help construct new futures for everyone.
Contributors include: Bora Baboci, Maite Borjabad, Eduardo Cassina, Trajna Collective, DOMA, Liva Dudareva, Stefan Gruber, Jason Hilgefort, METASITU, Anh-Linh Ngo, Phi, RESOLVE, Skrei, Anastassia Smirnova, Space Transcribers, TAB Collective, Tania Tovar Torres, Stephan Trüby, the Unfolding Pavilion team and many more.
Edited by George Kafka, Sophie Lovell and Fiona Shipwright, &beyond
Order Archifutures Vol. 5 here>>
Related