Creative Exchange 2019
#Creative Exchange
MAO Museum of Architecture and Design, Ljubljana, SI
Rusjanov trg 7, 1000 Ljubljana, Slovenia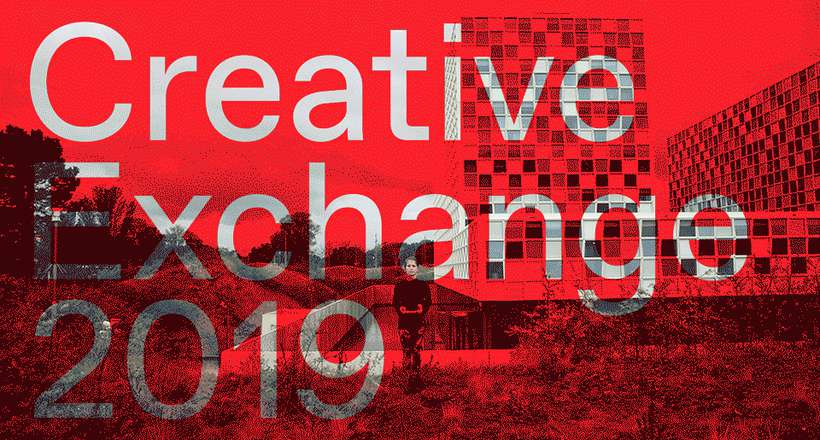 The three day event at the Museum of Architecture and Design (MAO) in Ljubljana will again represent the most insightful annual gathering around European architecture, and showcase ideas and trends for the future development of architecture and the profession.
The Focus Talks, on the first day of the event, will feature Giovanna Borasi, chief curator at the CCA and editor of the book The Other Architect. The keynote speakers at the conference will also be architects who run well established practices today, but develop them in a constant search for alternative architectural tools and strategies: Gustavo Utrabo, Aleph Zero architects, RIBA International Prize 2018 winners; Freek Persyn, 51N4E Architects, European Urban Public Space Prize 2018 winners; and Špela Videčnik, OFIS Architects. The Focus Talks will be chaired by Mika Savela, editor-in-chief of the Finnish Architectural Review and 2016 Future Architecture Alumni.
The Matchmaking Conference will feature 25 selected emerging creatives that have submitted their ideas to the Future Architecture Call for Ideas 2019 and winners of the Fundació Mies van der Rohe Young Talent Architecture Award 2018.
Over the course of the event, the Future Architecture Fair will provide a forum for architects or architecture offices, institutions, producers, curators and other professionals to present their projects, connect and meet partners for projects and stay abreast of the latest developments in architecture.
Wednesday, 13 February 2019
10.00–19.00

FUTURE ARCHITECTURE FAIR



14:00 - 15:00

EU Mies Award 19 - Announcement of Finalists



Michel Magnier
European Commission, Director of Culture and Creativity



Ivan Blasi
Fundació Mies van der Rohe, Barcelona (E)

15.00–19.00

FOCUS TALKS



Chaired by
Mika Savela, Editor-in-Chief at Finnish Architectural Review

15:30

Freek Persyn
Architect, Co-Founder and Principal at 51N4E Architects

16:00

Gustavo Utrabo
Architect, Co-Founder and Partner at Aleph Zero, Specialist in National History and Literature - Universidade Tecnológica Federal do Paraná

16:30

Špela Videčnik
Architect, Co-Founder and Principal at OFIS Architects, Visiting Professor at Harvard GSD, Boston, USA

17:15

Giovanna Borasi
Architect, Editor, Author of The Other Architect and Chief Curator at the CCA

18:00

Discussion, moderated by Mika Savela
Giovanna Borasi, Gustavo Utrabo, Špela Videčnik, Freek Persyn

20.00

Guided tour of the exhibition Living with Water – Southern Fringe of Ljubljana with the curatorial team and Welcome Drinks

Thursday, 14 February 2019
10.00–19.00

FUTURE ARCHITECTURE FAIR



10.00–14.00

MATCHMAKING CONFERENCE

Presentation by 24 members and their events as part of the European Architecture Programme 2019.

10.00

Welcome

10.10

Special projects
Forecast Platform, Berlin; POLIS University, Tirana; Bureau N, Berlin; dpr-barcelona

10.30

Conferences & Talks
VI-PER, Prague; Fundació Mies van der Rohe, Barcelona; Design Biotop, Ljubljana; KAF, Pristina; Eesti Arhitektuurimuuseum, Tallinn

10.55

Break

11.15

Workshops & Schools
Lisbon Architecture Triennale; DAI-SAI, Pula; Copenhagen Architecture Festival; Oslo Architecture Triennale

11.35

Exhibitions
Fundaçao Calouste Gulbenkian, Lisbon; MAO, Ljubljana; S AM, Basel; HDA Graz; Muzeum Architektury, Wroclaw

12..00

New members
Tbilisi Architecture Biennial (Tinatin Gurgenidze, co-founder and artistic director)
Architektūros fondas Vilnius (Julija Reklaite, co-founder and artistic director)

12:30

Lunch

14:00

Living with Water – Southern Fringe of Ljubljana
Guided tour of the exhibition with one of the curators, Damjan Kokalevski

16.00

Future Architect
5 projects from Russia envisioning the Future of Architecture with Strelka Institute
Viktoria Khokhlova (RUS), Arctic Present: The Case of Teriberka
XOPA (RUS), Xuxula: Informality as a Method
Lion & Unicorn (RUS), The Virtual Russian Pavilion
Nikolay Stulov (RUS), Plugged in Autonomy
Archifellows (RUS), The Part





17.00
Future Architecture Fair Cocktail Dates

Friday, 15 February 2019
10.00–19.00

FUTURE ARCHITECTURE FAIR



09.00–18.00

MATCHMAKING CONFERENCE

Presentations by selected multi-disciplinary emerging professionals about their transformative projects related to our living environments. Future talents will talk about their completed projects, theoretical or conceptual propositions for spatial, social or cultural innovations and discuss about the future of architecture.

10.00

Annual Reflections Summary, Giovanna Borasi, CCA, Montreal (CA)

10.30

Constructing Conscience


Outsider

, Outsider, Ljubljana (SLO)


F.A.T.

, Forum for Architecture Theory, Zürich (CH)


Unsent Postcard

, Giorgia Scognamiglio & Lorenzo Zandri, London (UK)


Curriculum Revolution

, Charlotte Malterre-Barthes, Dubravka Sekulić, Zürich (CH)


Eurotopia

, Traumnovelle, Brussels (B),
Discussion

11.35

Break

11.50

Planning New Contexts


Perdido (Lost)

, Julio Gotor Valcárcel, Basel (CH)


Neue Bauakademie Berlin

, Hendrik Brinkman, Berlin (DE)


Spaces like Actions

, M. Ferrari, C. Gallizioli, M. G. Milani, Borgo Valsugana (I)


The beautiful Ruins We are made of

, Sonja Dragovic, Podgorica (MNE)


Art(i)leria

, Elian Stefa, Tirana (AL)
Discussion

12.55

Lunch Break

14.30

In the Laboratory


Architecture through the butterfly effect

, Benart Shala, Prishtina (KS)


Shift

, SHIFT, Berlin (DE)


Visual Mediations

, para-sight, Nicosia (CY)


The Crimson Clouds, Sequel

, Vojtěch Rada, Prague (CZ)


It's time for an Architecture of De-Growth

, Klodiana Millona, Rotterdam (NL)
Discussion

15:35

Break

15.50

Urban Solidarity


The 0.75 Scale

, Meisje Trabajo, Amsterdam (NL)


Expansion as the second Layer of the City

, nopurpose collective, Rotterdam (NL)


Hope on Water

, SO?, Istanbul (TR)


Working with the 99%

, Ateliermob, Lisbon (PT)


A Seat at the Table

, Urban Works Agency, San Francisco (USA)
Discussion

16.35

Break

17:10

Towards a Reparations Ecology


Logistics Landscapes

, K. Frejlachova, M. Pazdera, T. Riha, M. Spicak, Prague (CZ)


Under Construction

, Norell/Rodhe, Stockholm (S)


Deplorable Framework

, Matthew Gregorowski, London (UK)


(UN)just Peace

, Lodovica Guarnieri, Rotterdam (NL)


Queer Nature

, Céline Baumann, Basel (CH)
Discussion

18.30

Goodbye Drinks

The event is admission free and you are welcomed to join us at any point in the event without registration!
Related