The Publishing School - Pedagogies of Care
#Exhibition, Publishing, Symposium
DAI-SAI Association of Istrian Architects, Pula, HR
Rijeka, HR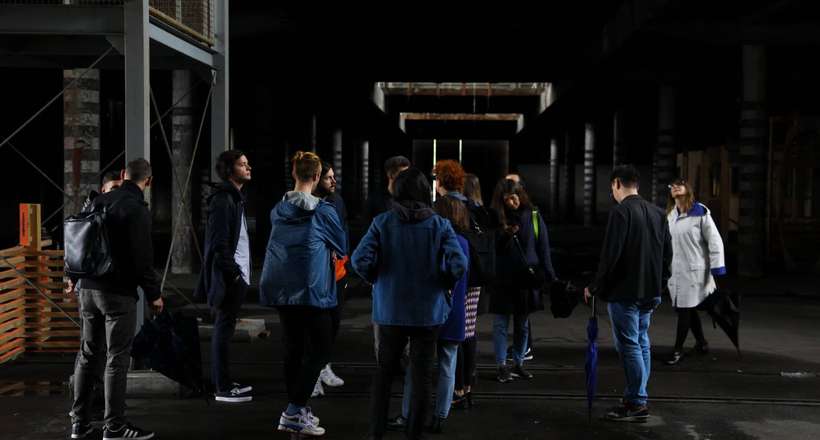 © 2019 DAI-SAI, Publishing Acts III in Rijeka, photo: Matija Kralj
The Publishing School is an exploration on contemporary architectural education and forms of collective care, organized by the Society of Istrian Architects (DAI-SAI), in collaboration with DeltaLab (University of Rijeka). The publishing school derives from three experimental cases of urban investigation on publishing as a spatializing practice (Publishing Acts I-II-III).
The first Publishing Act, an experimental editorial workshop with the aim to produce instant, collaborative and open-ended socio-political imaginaries about a city, took place in Pula in 2017. The resulting publication - Pula Documents - was then distributed by hand: a performative gesture by which not only a printed product was imparted but also the engagement with the topics it contains. More on Publishing Acts and Pula Documents in Rebekka Kiesewetter's text.
The second Publishing Act, which embodied critical reflection on prevailing processes, methods and frames for architectural knowledge production, was held in Šibenik in 2018. By perceiving publishing as a processual device for multivocal negotiation - Šibenik Alternating Currents - was materialized as a print-on-demand matter and coproduced with dpr-barcelona. More on Šibenik Alternating Currents.
Settled in the urban context of Rijeka, only months before the opening of its official European Capital of Culture 2020 programme, the last editorial workshop evolved in 2019. Being simultaneously a retrospective to come and a futurospective, the newspapers edition - Fiume Novare - captures different positions on what will happen on "The Day After" of Rijeka's European cultural capitalization. The third publication acts as a symbolic circulation of concepts, in which all operate in a sphere of inseparable forms of "post-Rijeka-isms". Fiume Novare is available for download here.
The Publishing School: Pedagogies of Care is a programme that embodies the three Publishing Acts building upon their collective efforts in shaping a publication, a public and urban imaginaries, with the aim of investigating how we learn and produce knowledge collectively through emancipatory practices of care. It consists of the Exhibiton, the Symposium and the Publication. The Exhibition (25 August 2020), as a digital expanding work-in-progress, will include contributions of the Future Architecture participants from Publishing Acts I-II-III, together with the new works of international and local authors focusing on pedagogies of care. The Symposium (26-28 August 2020) will explore the ideas of a "de-schooled school," evolving beyond the institutional environments of learning and establishing self-organized, autonomous, "free" educational spaces, based on the international legacy of radical pedagogies of the 1960s and 1970s, and local heritage of solidarity from the same period. The Publication (Dec 2020), a "portable learning environment," will speculate about what futures emerge on the horizons of knowledge production, and about new practices of critical care.
PARTICIPANTS
Future Architecture Fellows:
Urbanaarchitettura (Marco Moro, Paolo Pisano, Sabrina Puddu, Francesco Zuddas),
No Purpose Collective (Jack Bardwell),
MONTAJE (Andrés Carretero & Saúl Alonso + Jorge Casas),
TiriLab (Christina Serifi | Zuloark),
Un-war space lab (Armina Pilav, Damir Ugljen, Jonas Langbein)
Concept by Ana Dana Beroš, on the behalf of DAI-SAI.
Related