All the Beauties of the City / Andi Schmied, Private Views: A high-rise panorama of Manhattan
#Book, Publishing
VI PER Gallery, Prague, CZ
Prague, CZ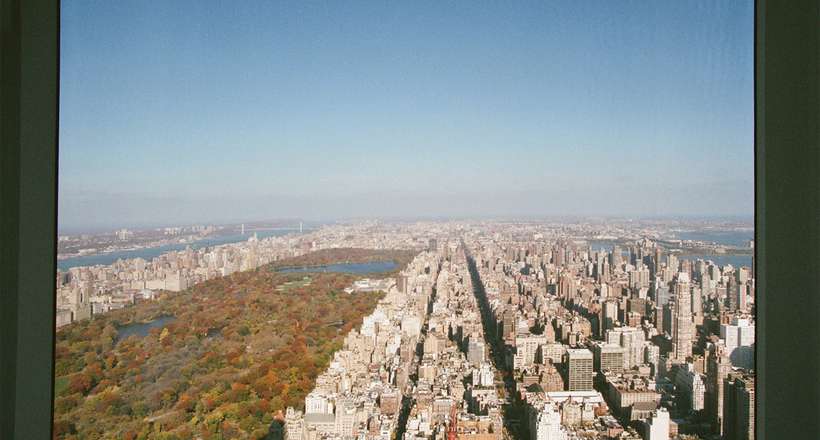 © 2020 Call for Ideas, Andi Schmied, Private Views: A high-rise panorama of Manhattan.
View from the 83rd floor of the recently completed 432 Park Avenue, designed by Rafael Viñoly. Until 2017 the building was the highest residential tower on the planet.
As part of the 2020 Future Architecture Programme : All the Beauties of the Cities, VI PER Gallery will publish a book Private Views: A high-rise panorama of Manhattan, based on the project Private Views by Andi Schmied showcasing the views of over thirty of the Manhattan's most luxurious private residential skyscrapers, which she documented while posing as an apartment-hunting Hungarian billionaire. The project has been selected from the FAP 2020 Call for Ideas and will be the second book published by VI PER, establishing new and diverse publishing activities. The book will be published in November 2020.
To support the publication of the book, donate here.
About the project
Despite the iconic nature of the Manhattan skyline, there are only three places the public can see it from and those are the Empire State Building, the Rockefeller Center and ONE World Trade Center. All other elevated views are a private privilege, only available to owners of luxury penthouses.
Posing as an apartment-hunting Hungarian billionaire, Andi Schmied accessed and documented the views of over thirty of the city's most exclusive high-rise properties. Her book offers a glimpse into this elite world. Showcasing the surreal strategies of persuasion used by real estate agents, the book allows readers to bypass the gatekeepers of luxury real estate; guiding them through the sunset from Trump Tower, dawn over Central Park from the tallest residential tower on Earth, and showing samples of the most luxurious materials, such as the Siberian marble, used in soaking tubs overlooking the Statue of Liberty.
The skyscrapers visited by Schmied were carefully selected due to their representation of a new type of luxury. Those selected for their architectural interest include the MOMA Expansion Tower by Jean Nouvel, Gehry Tower, Jenga Tower, and 432 Park Avenue. Among the buildings visited for political reasons were the Trump Tower or Time Warner Centre, where recently more than a dozen owners have gone to prison, after anonymously buying an apartment through shell companies. For buildings of economic interest, Schmied visited 220 Central Park South, where its penthouse duplex has been sold for a record sales price. Other buildings selected ranged from reconstructed early American skyscrapers to luxury condos (such as the Woolworth Tower Residences, or Pine Street 70) and penthouse suites for sale within luxury hotels (such as the Four Seasons, Ritz Carlton and the Baccarat).
The book aims to offer a glimpse into this world, inaccessible to most of us. Schmied will guide the readers through these penthouses, showcasing the surreal strategies of persuasion used by estate agents. The visual content of the book will consist of Schmied's analog photographs of the views from each of these skyscrapers – some apartments still under construction, some views hidden in the clouds. These views are usually seen as rendered images advertised by developers. Accompanying this will be the transcripts of the conversations during the real estate visits and a diary-like text written by Schmied, describing the process of becoming a flat-hunting billionaire.
The contributors' essays, which are scattered around the book, will highlight the problematic nature of these "Private Views." Air-rights, the shadows these buildings cast, ghost apartments used for speculation, Hudson Yard's role in the city, or the dreamy aesthetics of renders- these are just some of the subjects that will be discussed in the book.
The book will contain data and photographs of all visited buildings together with transcripts of the real estate viewings, interview with the author, several essays, and short entries dealing with various subjects and explaining certain concepts to the reader. Confirmed contributors include Peter Noever, Anthony Vidler, feminist architecture collaborative, Sam Stein, Sharon Zukin, SITU Studio, Sara Bernat, Jack Self, Ava Lynam, and others.
Schmied's project is an art and architecture project, but the outcome touches upon various professional fields, such as sociology, economy, urban studies, and anthropology. At the same time, the book will be very comprehensible to wider audiences.
About the author
Andi Schmied is a visual artist and architect based in Budapest, Hungary. Her work focuses on places that do not follow conventional logic, yet remain part of our cityscape. These vary from areas that have deviated far from their originally planned function (Jing Jin City), utopian architectures (Noguchi Town), or spaces of privilege (Private Views). Schmied graduated from the Bartlett School of Architecture and her work, among other places, has been shown in London (Daniel Blau Gallery, Schwartz Gallery, The White Building), Southampton (John Hansard Gallery), Sapporo (Salon Cojica, HUG Gallery), Beijing (Design Week), Rotterdam (International Architecture Biennale), Budapest (Trafo Gallery, Trapez, OFF Biennale, Kunsthalle). She has been artist-in-resident at S-AIR, Sapporo (Japan), Triangle Arts, New York, DordtYart, Dordrecht (Netherlands), Meetfactory, Prague (Czech Republic), Outpost, Norwich (UK), and MuseumQartier, Vienna (Austria).
Book editors
Irena Lehkoživová is an architectural historian and a co-founder of VI PER Gallery in Prague. Her writings appeared in several books and Czech magazines (Architekt, Stavba, Art+Antiques, Era 21), as well as abroad (Centropa, Journal of the Society of Architectural Historians). She is editor of books such as Zdeněk Seydl a knihy (2015), The Paneláks: Twenty Five Housing Estates in the Czech Republic (2017), and Sídliště Ďáblice: Architektura pro lidi (2019). Recently she has curated exhibitions of Amie Siegel, Irma Boom, Katarina Burin, Forensic Architecture, and Kader Attia.

Barbora Špičáková is an art historian and a co-founder of VI PER Gallery in Prague. She works at the Archive of Fine Arts in Prague. Between 2010 and 2015 she led an exhibition space for young artists called Fenester. Špičáková is author and editor of books such as Sídliště Solidarita (2014), Zdeněk Seydl a knihy (2015), or collection of texts from the 1950s to the present by Czech-Swiss art historian Ludmila Vachtová titled Tady a teď (2018).
Graphic designer
Tereza Hejmová is a leading Czech graphic designer, and assistant professor at FFA BUT. She has worked on book projects for the National Gallery in Prague, Moravian Gallery, transit display, Institute of Art History, UMPRUM, Jindřich Chalupecky Society, Museum of Decorative Arts, Arborvitae and for numerous artists and architects. She was awarded first prize at "The Most Beautiful Czech Books" in five consecutive years. She also got an honorary mention at the "Most Beautiful Books of the World" for her work on Aliens and Herons, a book that examines the abundance of public sculpture created during Czechoslovakia's "Normalisation" years.
Related