The results are in!
Call for Ideas
20 Jan 2016
291 ideas by 524 different artists from 39 countries reveal the critical thinking of the currently emerging generation of designers and architects in relation to the existing models that shape architecture as a discipline.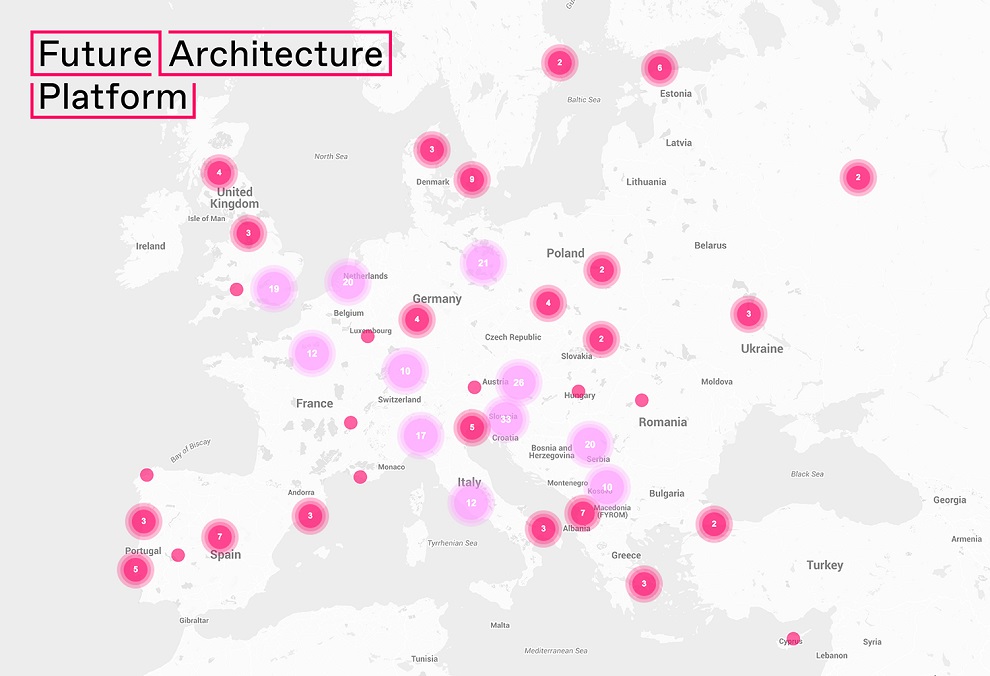 The Future Architecture Call for Ideas 2015 received 291 ideas by 524 different artists from 39 countries from all over the world. The full list of applicant countries is as follows: Albania, Argentina, Austria, Belgium, Bosnia and Herzegovina, Canada, Chile, Croatia, Cyprus, Czech Republic, Denmark, Dominican Republic, Estonia, Finland, France, Germany, Greece, India, Italy, Kosovo, Luxemburg, Montenegro, Netherlands, Peru, Poland, Portugal, Romania, Russia, Serbia, Slovakia, Slovenia, Spain, Sweden, Switzerland, Thailand, Turkey, Ukraine, United Kingdom, United States of America.
"Judging by the applications and the general interest the platform has generated, I am confident the platform will grow beyond its current frame of a two-year project. It will definitely leave a lasting and tangible legacy," says Matevž Čelik, platform manager and director of the Museum of Architecture and Design (MAO), Ljubljana, Slovenia, the platform coordinating entity.
Platform members selected architects, designers and artists who will participate at the Future Architecture Matchmaking Conference to take place 18 – 20 February 2016 at the Museum of Architecture and Design (MAO) in Ljubljana. The conference will present a variety of topics and ideas on the future of architecture that have been collected through the platform's work.
The applications selected at the Call for Ideas by the platform members are: Amateur Cities (Amateur Cities), Ana Jeinić (Architecture After the Future), dotlinearchitects (Architecture for Refugees), Land+Civilization Compositions (Architecture of Commons), Esen Gökçe Özdamar, Ahmet Bal, Şermin Şentürk (Bioplarch), Linnea Våglund (Biosynthetic Possessions), Plan Común (Common Places), Sonja Jankov (Curating Heritage in Future), Aman Iwan (Diktyotopia), Manon Mollard (From Infrastructure to urban Interiors), Guerilla Architects (Guerilla Architects), CNTXT Studio (Landscapes for the Anthropocene), Sodeste (Madrid Urban Stewardship), Tomaž Pipan (New Models of City Life), urbz (No Future), Clement Blanchet (Reconsidering Hope), Miloš Kosec (Ruincarnations), Sara Neves + Filipe Estrela (Self-Constructed Paradigms), Vera Seriakov, Nela Kadic (Skopje. Beyond The Obvious), Something Fantastic (The Future of Architecture), Jack Self (The Ingot), Anja Humljan (The Urban Yoga), Léopold Lambert (Weaponized Architecture), Lavinia Scaletti (ZIP City: Houseless Not Homeless). The followers of the Future Architecture website have selected their favourite idea, Bringing Back the Social into the Cities, by Aleksandra Zarek, who will also speak at the conference. The ideas in total received 9111 valid votes.
Do you agree with the selection? Share your thoughts: #FAidea