Creative Exchange 2021: Landscapes of Care
#Creative Exchange
MAO Museum of Architecture and Design, Ljubljana, SI
ONLINE > http://futurearchitecturerooms.org
With the Creative Exchange 2021: Landscapes of Care, one of the key European events for networking and presentation of architectural ideas, Future Architecture Platform will introduce a new season of its European Architecture Program via a live webcast for the first time via Future Architecture Rooms.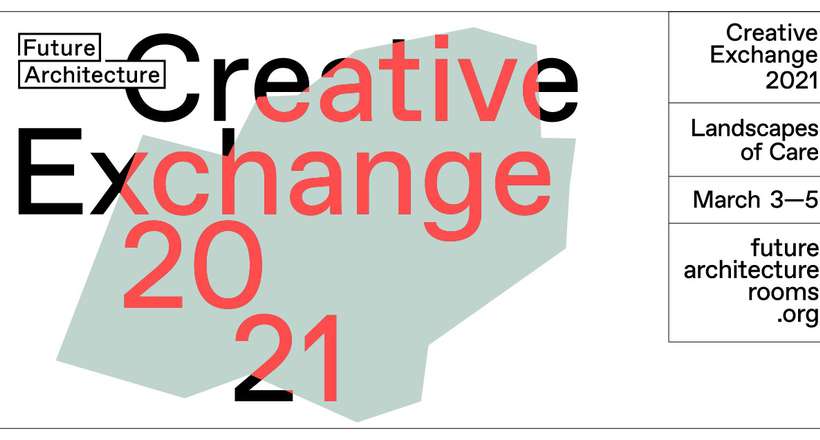 Join Future Architecture at the Creative Exchange 2021: Landscapes of Care, which will take place within the virtual environment for the presentation of architectural ideas and networking: Future Architecture Rooms.
Creative Exchange 2021: Landscapes of Care will be one of the first major events dedicated to the conversation about the New European Bauhaus and the European Green Deal, announced in September 2020 by the president of the European Commission, Ursula von der Leyen.
The annual convention will take place online this year under the title Landscapes of Care. The participants will be addressed by Xavier Troussard, head of the New European Bauhaus at the European Commission's Joint Research Center. The main guest at this year's event will be Amica Dall, who holds a degree in English literature and anthropology and is one of the fifteen founders of the non-hierarchical multidisciplinary London collective Assemble, which produces architecture, art, urban design, and research—and in doing so focuses on the social and material processes of urban development.
The core of the CEx2021 will be nine live discussions with twenty-seven emerging creatives from various disciplines that responded to this year's call for ideas, the platform's tool for encouraging emerging creatives to present their innovative architectural ideas to a wide range of decision-makers and stakeholders, and fifteen curators, directors, and program managers that will carry out the events in the 2021 European Architectural Program. The discussions will include participants addressing topics of public space, landscape, buildings, revisiting histories, transdisciplinarity, paradigm shifts, feminism in architecture, decolonization, and new policies.
Schedule
Landscapes of Care Short Film Premiere
FEBRUARY 26TH, 12:00 noon, CET
>> https://futurearchitecturerooms.org
Premiere of twenty-seven videos contribution as the presentation of the selected authors on the Call for Ideas 2021: Landscapes of Care. The event is the official introduction to the Creative Exchange 2021: Landscapes of Care.

2021 CREATIVE EXCHANGE: LANDSCAPES OF CARE
MARCH 3RD–5TH
>> https://futurearchitecturerooms.org/creative-exchange



Designing for Awareness
MARCH 3RD


13:00-13:15

Welcome

Bogo Zupančič, Museum of Architecture and Design, Ljubljana
Matevž Čelik, Future Architecture Platform


13:15-13:30

Introduction

Xavier Troussard, head of New European Bauhaus, EU Joint Research Center (JRC)


13:30-13:45

Break

13:45-14:15

Annual Reflection Summary

Amica Dall, Barcelona


14:15-14:30

Break

14:30-16:00

Live Discussions

Public Space Session
Moderators:
Alexandra Cruz, 2021 Autumn Program, Oslo Architecture Triennale
Andreas Ruby, Access for All, S AM Swiss Architecture Museum, Basel
Fellows:
Reclaiming Public Space, Santos Collective, Lisbon
Narratives of Space in Film, Nina Bačun (Oaza Collective), Zagreb
Infrastructures of Care, Sanatorium Premium + kultura, Moscow/Rotterdam

Landscape Session
Moderators:
Josephine Michau, Exploring the Intersection of Film and Landscape Architecture from a Designer's Perspective, Copenhagen Architecture Festival
Viktorija Šiaulytė, Sensing Urban Matter, Architektūros fondas, Vilnius
Fellows:
Invisible Landscape, Uncertainty Network Office, New York
Materia Prima, Erika Loana & Gabriela Sisniega, Mexico City
Dance Is Politics, á la sauvette, Las Palmas de Gran Canaria

Houses Session
Moderator:
Triin Ojari, The House We Need, Estonian Museum of Architecture, Tallinn
Fellows:
Climate Care, Soft Agency, Berlin
Two Houses, Verena von Beckerath et al., Weimar
O U R S, Magdalena Havlová, Prague



Tools of Care
MARCH 4TH


13:00-13:15

Meeting the new platform member

Dani Arhitekture, Sarajevo


13:15-13:45

Keynote speaker

Amica Dall – Assemble, Barcelona


13:45-14:00

Break

14:00-15:30

Live Discussions

Revisiting Histories Session
Moderators:
Danica Prodanović, If These Walls Could Talk, Belgrade International Architecture Week
Manuel Henriques, Revisiting Future Architecture Collections, Lisbon Architecture Triennale
Fellows:
An Architecture of Chronic Illness, Anna Ulrikke Andersen, Halden
The Caring City, Col·lectiu Punt 6, Barcelona
OASI, Álvaro Alcázar DelÁguila, Borrego

Transdisciplinary Session
Moderators:
Freo Majer, Driving the Human: Seven Prototypes for Eco-Social Renewal, Forecast, Berlin
John Bingham Hall, Movement Forum, Theatrum Mundi, Paris
Fellows:
Architherapy, Erika Henriksson, Trondheim
Sonic Acts of Noticing, Julia Udall, Sheffield
Stage for the City, Monika Marinova, Burgas

Paradigm Shifts Session
Moderator:
Saimir Kristo, Tirana Design Week 2021: Health & Wellbeing in the Post-Pandemic City, Tirana Design Week
Fellows:
Architecture & Education, L'Atelier Senzu, Paris
Off the Grid, Willem Hubrechts, Brussels
Back to Nature, PUZZLE, Skopje


15:30 - 17:00

Digital Refreshments with Improv Theater Iglu


Building Equality
MARCH 5TH


13:00-13:30

Keynote speaker

Marie-Louise Richards, Stockholm


13:30-13:45

Break

13:45-15:15

Live Discussions

Feminist Session
Moderators:
Irena Lehkoživová, Architecture as a Tool for Care, VI PER Gallery, Prague
Michal Duda, Invisible Perspective: Women in the Space of Architecture, Museum of Architecture in Wrocław, Wrocław
Fellows:
Disability × Maternity, Frani O'Toole, Chicago
Honey, I'm Home!, Edit Collective, London
F_WALKS, fem_arc collective, Berlin

De-Colonizers Session
Moderators:
Anna Ramos, Barcelona Architecture Week, Fundació Mies van der Rohe, Barcelona
Bekim Ramku, Alter-Nation – Kosovo Architecture Festival, KAF, Prishtina
Fellows:
Afro-Futures in European Enclaves, Menna Agha, Mário Barros, Diogo Henriques, Aalborg
Minorities in Metropolis, Juan G. del Cerro, J. Zabert, Barcelona
Borders of Care, Carlos Lanuza Jarquín, Barcelona

New Politics Session
Moderator:
Cesar Rejes Najera, Future Architecture Library, dpr-barcelona, Barcelona
Fellows:
What Do Landscapes Say?, Nomaos, Delft
Cocinas Alterinas, G. Aquije, M. El Bakry, Zürich/Dessau
Queer Commons, Alexander Auris, Brussels


15:15–15:30

Break

15:30–16:30

Looking over Future Architecture

Moderators:
James Taylor Foster, Matevž Čelik
Speakers:
Merve Bedir, Paolo Patelli, Maite Borjabad, Johnny Leya, Armina Pilav


Press inquiries
General info
info@futurearchitectureplatform.org
Related